Tuyen is from Vietnam, pursuing a Master of International Business. She is the recipient of a New Zealand Development Scholarship, funded by the New Zealand Aid Programme.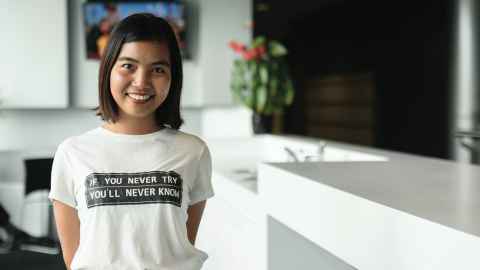 "I chose to study towards my Master of International Business as it will support my work in Vietnam as a government official in charge of business issues at Ho Chi Minh City Department of External Relations."
The University of Auckland is regarded as the best university in New Zealand and is top-ranked in the world. It offers excellent teaching and diverse cultures, with modern and convenient facilities. The teaching and academic staff here are excellent – inspiring, approachable, and helpful.

"The University campus is well-equipped and the available facilities are very convenient and advanced. There are plenty of accommodation choices at the University of Auckland, so it is easy to find something that will suit. I have been living at University Hall and I love the environment there – it's student-friendly, secure, clean, with immediate support, and is a great way to meet people.
"Auckland is a dynamic city to live in and the University of Auckland is very culturally diverse. I've found it easy to make friends from many countries, and have been to several amazing places around New Zealand, including Queenstown, Lake Tekapo, Taupo, Wellington, and New Plymouth. Since moving to Auckland I've taken up the Kiwi hobby of tramping, and in my spare time I like going to the gym, swimming, reading, and learning foreign languages.
"My advice to future international students at the University of Auckland is – be inquisitive, and ready to learn and explore. You will receive so much support to achieve your goals."