Geotechnical Engineering covers all aspects of Civil Engineering at the interface between built and natural environments.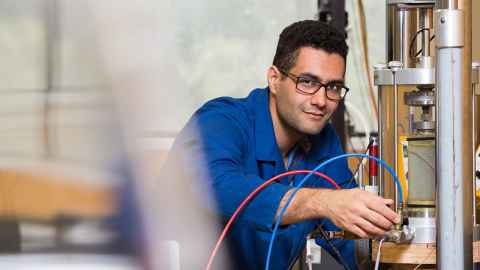 Subject overview
In Geotechnical Engineering, you can learn about the interaction between the natural environment and the built structures we rely on, such as building and bridge foundations, tunnelling, and earth dams.
At the University of Auckland, we have established links with the geotechnical engineering profession in New Zealand and overseas. This strengthens our current research areas, which include:
Laboratory and field characterisation of the geotechnical properties of New Zealand materials
The design of foundations to resist earthquake loads
The micro-mechanical behaviour of geomaterials and its effect on macro-response
Rainfall-induced slope instabilities and shrink-swell characteristics
Where can Geotechnical Engineering take you?
Studying Geotechnical Engineering will prepare you for work in a profession that is currently suffering from a skills shortage. Upon completing a programme, you should have developed the skills necessary to take leading roles in planning, evaluating, designing, constructing, maintaining, and managing the geotechnical infrastructure. You could also pursue a career in asset management, or take advantage of research and development opportunities within the industry.
Explore your study options in Geotechnical Engineering