Postgraduate study in Photonics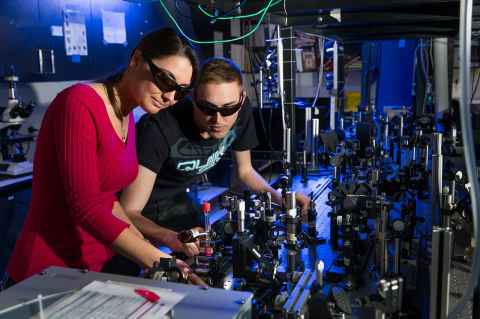 What can you study in Photonics?
You will pursue advanced courses in Physics and Electrical Engineering and learn about the design and use of lasers, optical fibres, waveguides, microresonators, optoelectronic devices, optical communications, sensing, imaging and detection.
Areas of research open to exploration include:

Advanced imaging technologies
Micro-to-nanofabrication
Optoelectronics and communications
Photonic engineering
Propagation of light in optical fibres
Optical instrumentation and sensing
Nonlinear optical devices
Structuring your postgraduate programme in Photonics
Bachelor of Science (Honours) (BSc(Hons)) in Photonics
15 points from:
at least 15 points from:
up to 45 points from 700 level courses in a related subject:
45 points:
Prerequisite courses
Courses
Explore the postgraduate courses you can take for a Photonics specialisation:
Where can postgraduate study in Photonics take you?
The field of photonics, also known as optoelectronics or electro–optics is having a significant impact on society. Many industries are finding that the equipment they service or develop contains optical or photonic components as well as traditional electronics, and there is a growing demand for people who understand this technology.
Jobs related to Photonics
Application engineer
Communications technician
Photonics R&D specialist
Fibre optic technician
Optical assistant
Telecommunications technician
Scholarships and awards
Each year we award scholarships and prizes to thousands of students.
Find out about the scholarships you may be eligible for, search available scholarships or begin an application by visiting Scholarships and awards.
Help and advice