Sustainable Resource Recovery
Sustainable Resource Recovery involves the development of innovative waste minimisation and recycling technologies, and resource recovery processes that are beneficial to our environment and economy.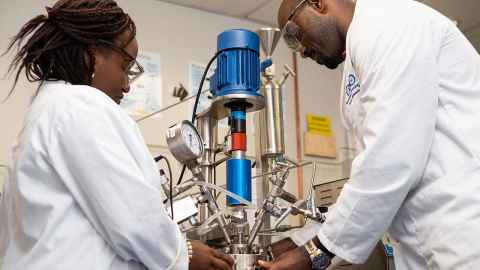 Subject overview
In response to the necessary transition to a circular economy and sustainable society, modern processes need to be energy and material efficient, flexible and be able to recover valuable resources from materials that are conventionally considered as waste.
As 'sustainability' becomes increasingly seen as a buzzword, new generations of engineers and scientists are working to redefine the term so that it truly addresses not just economic survival, but the needs of humanity and our planet. We aim to ensure that our engineering graduates can empower positive change, and are a reflection of this perspective.
Our Master of Engineering Studies in Sustainable Resource Recovery aims at educating a new range of professionals with a holistic overview on waste minimisation and up-to-date resource recovery technologies who are familiar with sustainability concepts and can bring novel mindsets to industry. This programme will provide an essential framework for graduates entering into both engineering and scientific employment, in New Zealand and overseas.
As Aotearoa's first university to offer postgraduate study options in Resource Recovery, we are also taking this opportunity to bring a new dimension to this internationally-established field by aligning with Te Ao Māori and the tradition of kaitiakitanga, 'the exercise of guardianship'. To do so, we will forge relationships with Māori businesses and communities who are able to facilitate the transfer of knowledge. This means that you'll be provided with a holistic learning experience unique to our position in the world.
For engineering graduates, this specialisation is designed to meet requirements for international accreditation provided by the Institution of Chemical Engineers (IChemE), which can contribute to your chartered status.

Where can Sustainable Resource Recovery take you?
Skills in waste reduction, recycling, resource limitation, and resource recovery technologies are directly relevant to — and urgently needed in — the processing and manufacturing industries as well as the waste management sector. Studying Sustainable Resource Recovery can prepare you for roles such as:
Process Engineer
Waste Minimisation Manager
Resource Recovery Engineer
Process Optimisation Engineer
Sustainability Manager

Explore your study options in Sustainable Resource Recovery