Read some of the additional articles from the August edition of Link News
2020 Accommodation Update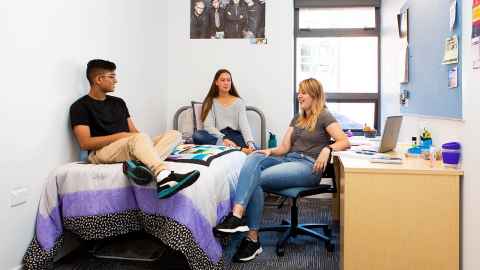 Applying for Accommodation FAQs
When should I apply?
On 1 August, applications for the 2020 residential period will open. Students who submit their completed application between 1 August and 30 September will be in the consideration pool for a first offer.
This also means that if you're planning to attend Open Day in August, you can submit your application after having viewed the Halls.
Students can continue to apply for accommodation after 30 September to be considered for places that become available through withdrawals. However, applying later can impact on your chances of receiving an offer for your preferred residence.
What do I need for my application?
You will need to state:
Which Hall of Residence you wish to apply for (You can only select one preference.)
Your most recent academic results (usually Year 12 NCEA, IB or CIE)
Your NSN (National Student Number) if you have one
Your intended degree at the University of Auckland Details for your emergency contact (name, address, phone number/s and email address)
Your academic background, school reference and what you tell us about yourself in the "About You" section are all taken into consideration when Accommodation Management review your application. The Halls are looking for a balanced student mix – so they will be considering gender-balance, and a mix of students from different backgrounds and programmes of study. The date of your application is also a consideration.
First offers, ongoing offers and waitlists
First offers will be made at the beginning of October. At that stage, we offer every space we have in Accommodation. Responses are due by 18 October.
If students don't receive a first offer, they shouldn't panic. Ongoing offers continue to be made as places become available through withdrawals. While we may not be able to offer places to everyone in their preferred Hall, it does not mean that applicants will miss out on a place in accommodation.
It is common for a Hall to receive up to three times more applications than available beds. In these cases, students may be offered a place in another Hall. We strongly advise that they seriously consider any alternative offers, as there is no guarantee that places in their preferred residence will become available. With our Halls offering the same social programmes and academic support, students will still have a very similar experience no matter where they live.
2021 and beyond
Often first year students wonder what options will be available to them in their following year. University of Auckland Accommodation has been in a growth phase, so we have more beds to offer than ever before.
Our returning, undergraduates can apply for a variety of accommodation types, including single rooms in shared apartments at Carlaw Park Student Village and University Hall Apartments and studio apartments in 55 Symonds, pictured right, and UniLodge Whitaker.
Guaranteed accommodation for students studying at Epsom Campus
High school students should apply now to make sure they get a place in a University of Auckland Hall of Residence.
All school leavers applying for their first year of a bachelors degree at Epsom Campus or a Tertiary Foundation Certificate in the Education and Social Work Pathway, also at Epsom, get a guaranteed place to live if they apply for their accommodation by 30 September 2019.
Living in a Hall of Residence means they can easily meet other students and get support for their first year away from home. Most of the accommodation is only a short bus ride away from Epsom Campus.
They can find out more and apply at:
Summer Accommodation in Auckland
For students, staff or groups travelling to Auckland over the summer months, staying in one of the University of Auckland halls of residence is a great accommodation option. It's perfect for teams attending events or tournaments and for conference delegates.
Auckland Summer Stays are on offer from late November until mid-February, with over 1300 rooms available in secure buildings, located close to the city centre. Ideal for groups ranging from 4 people to 400+, the Halls of Residence provide rooms with king single beds and either an ensuite bathroom, or a bathroom shared between a small number of guests. WiFi is included, and meeting rooms and laundry facilities are also available.
Some halls have on-site catering to provide further convenience, with daily continental breakfast included for each guest. The catered halls can also supply dine-in or packed lunches and evening dinners.
Room rates start from just $82 per person per night, based on a 3-night stay, and quotes can be tailored depending on the size of group and length of stay.
To find out more about Auckland Summer Stays, visit the website or email us:
www.summerstays.auckland.ac.nz
What makes Urban Planning such a great degree?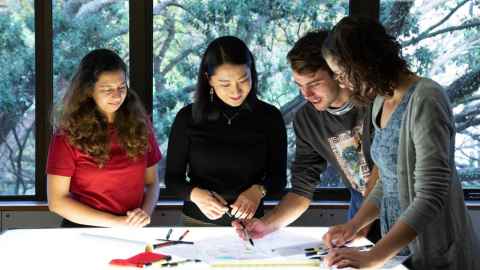 Behind every thriving city, housing development and cycle path is a creative urban planner looking for ways to improve the liveability of our urban areas. Urban planners have the fascinating job of developing our cities and towns into great communities where people can live, work and play in safe, enjoyable and convenient environments.
With 55% of the world's population now living in cities, Urban Planning has become a very relevant subject area – and one that will only grow in significance. Urban planners of the future will manage continual urban growth and at the same time strive to create uplifting environments to live in. This will have a massive impact on all our futures.
Our Urban Planning students learn transferable, in-demand skills relating to creative and critical thinking, leadership, change management, community engagement, design and spatial awareness. As graduates, they are highly employable both here and overseas. Many take up roles as urban planners, environmental planners, transportation planners, or urban designers in local or regional councils or private consultancies. Their Urban Planning degree opens up a broad spectrum of career pathways.
Who should study urban planning?
Often students will come to Urban Planning with an interest in geography, sociology, law, environmental science and economics. However, what's most important to us is a passion for improving the quality of people's lives. A degree in Urban Planning is a great option for students interested in implementing positive change in community, creative development, transport, housing, environmental sustainability and socio-cultural contexts.
Students who study Urban Planning at the University of Auckland have the immediate advantage of learning right in the heart of New Zealand's fastest-growing urban environment. Our programme is the only one in New Zealand with a focus on urban planning and urban design, and a strong studio-based learning culture.
What's more exciting, however, is that our students will walk away with the opportunity to help turn around decades of car-centric, unsustainable lifestyles and make transformative contributions to future communities.
www.architectureplanning.auckland.ac.nz
You can also phone or email us:
0800 61 62 63
+64 9 373 7513
info-creative@auckland.ac.nz
Come to our session at Open Day, Saturday 31 August.
www.openday.ac.nz