Faculty Focus: Medical and Health Sciences
Kickstart a career in medicine and health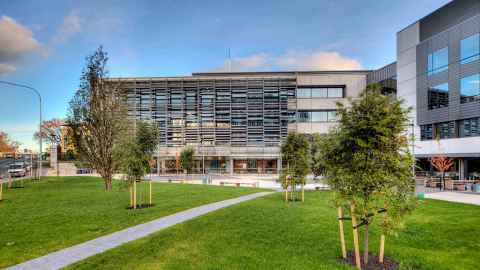 We're committed to improving the health of our local, national and global communities through excellence in teaching, research, and service. That's why the University of Auckland is one of the leading providers of tertiary education across New Zealand's health sector.
But when it comes to choosing a career in the sector, things aren't always clear-cut. We encourage students to start at the beginning: think about what their interests and passions are. We probably have a programme to suit those interests. Students can then consider a career based on where that programme could take them.
Take our Bachelor of Medicine and Bachelor of Surgery (MBChB), for example – you've decided this is the programme for you because you want to be a doctor. So what do you do next to achieve that?
We won't sugar-coat it: entry into Medicine is extremely competitive. That's why your students should be thinking about their options at the beginning of the year. The important thing to remember is that they can't apply to the MBChB directly from high school. Rather, they need to complete the first year of a Bachelor of Science specialising in Biomedical Science or the first year of a Bachelor of Health Sciences. They will need a minimum GPA of 6.0 across all courses and with no fails. They must also pass the University Clinical Aptitude Test (UCAT) and, if invited, a series of interviews. They then have two opportunities to apply to MBChB: upon completion of their first year or of the full bachelor's degree. 
However, Medicine is just one of many options. There are so many other highly rewarding, specialised careers in the health sector. Perhaps your students are interested in science and scientific discovery? They could consider Medical Science, specialising in a particular field, or perhaps Pharmacology. Who knows: they could contribute to research that cures a disease and go down in history! 
Maybe your students are excited by what's going on inside the human body. Have they ever thought about Medical Imaging? If they're all about making a difference in the community, then Pharmacy or Population Health could be a consideration. Or maybe they have an aptitude for patient care, in which case Nursing could be the perfect career. 
Students can enter our Nursing programme directly from high school. They can then apply to register as a nurse as soon as they graduate, gaining access to some fantastic opportunities for employer-funded career progression. 
There are so many other options, including Optometry, Nutrition and Dietetics, Health Informatics, Addiction Studies ... the list goes on. Whichever path your students choose, the Faculty of Medical and Health Sciences has plenty of options to embark them on fulfilling, rewarding careers.
www.auckland.ac.nz/en/fmhs.html 
Casey Mansson
Ngāpuhi, Ngāti Awa
Graduate: Certificate in Health Sciences (CertHSc)
Student: Bachelor of Medicine and Bachelor of Surgery (MBChB)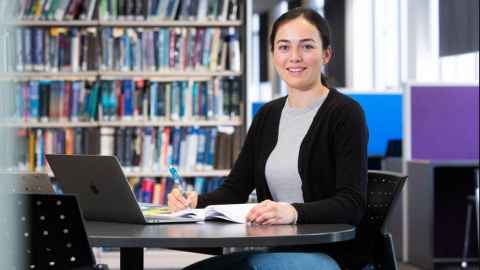 "As I entered my high school years, I started to become aware that some ethnic groups had worse health outcomes than others, and I wanted to understand why there was a disparity in life expectancy between Māori and Pacific people and our counter ethnicities in Aotearoa. 
"This fuelled my drive to pursue a career in health as a doctor. 
"My first step was getting accepted into the Certificate in Health Sciences (CertHSc). This was one of the best years for me in my educational journey. It was the perfect programme for someone like me who wanted to be in a challenging university environment but wasn't ready to take the huge leap into one of the two pre-med courses (Bachelor of Health Sciences or Bachelor of Science in Biomedical Science). The Cert is basically a microcosm of first year, where the courses we took were designed to teach foundational knowledge that we would need going into pre-med.
 "One of my favourite courses in Cert was Academic and Professional Development. I enjoyed this course because it provided me with the opportunity to learn the groundwork rules of University and how to manage my time professionally. 
"After CertHSc, I entered the Bachelor of Health Sciences so I could apply for the Medicine programme and begin my journey toward becoming a doctor. This will allow me one day to work closely with whānau in communities and reverse some of the disparities that I became awakened to in high school.
"Te Kupenga Hauora Māori and the MAPAS team here at the University have really supported me through my journey and helped me realise my potential, which I am very grateful for."