Tōia ki Waipapa – UniBound Māori
Tōia ki Waipapa – Unibound Māori is the newly established Māori stream of Unibound.
The decision to split the Māori and Pacific cohort means that we're able to offer a tailored Māori programme to all tauira (students) who may be considering a tertiary pathway. This is a full-time programme that takes place during Summer School and allows tauira the opportunity to take a course that can go towards their degree, while getting an on-campus experience that delivers appropriate learning support in preparation for University. Students also have the opportunity to be a part of a number of activities both on and off campus.
This year we had a small group of students take part in Tōia ki Waipapa. Their weeks consisted of academic and learning support workshops led by Te Tumu Herenga – Libraries and Learning Services. There were also a number of haerenga (field trips), which included visits to significant places and complemented what they were learning in their lectures.
If you have any students interested or if you have any questions, please feel free to contact Mereana Toki. Check out our website to learn more about Unibound.
Velocity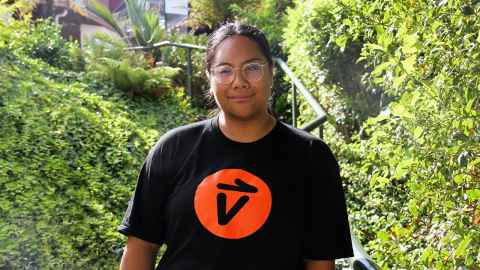 Wellingtonian Maina Fuimaono arrived at the University of Auckland never having heard of innovation and entrepreneurship. Now, in the final year of her Bachelor of Commerce, she recommends that every student includes it in their university experience. 
Maina is a member of the student team at Velocity. This is the University's student-led entrepreneurship development programme, run with the support of the Business School's Centre for Innovation and Entrepreneurship. She is also the Public Relations Officer at the Tongan Students' Association and was previously Social Affairs Officer at Commerce 'o Pasifika. 
Fellows there introduced her to the programme and inspired her to get involved. Her flatmate also happened to be on the team, and "never failed to remind me of Velocity's events and competitions. That, paired with the free ice-blocks during O-week, and people in bright orange morph suits – it was hard to ignore." 
Maina sees Velocity as a valuable way of spreading the entrepreneurial spirit and developing innovative capability. "When I first joined, Velocity wasn't something that was known amongst the Pacific community, and those who'd heard of it had reservations around whether they could be involved. I want to change that. Velocity has done so well in building a community, creating opportunities, and giving back. And I'm excited to take it even further." 
Thinking about the future, Maina is looking forward to reaping the benefits of the practical skills she gained through Velocity, such as time management and how to work in a team. She plans a career in the stock market or economic analysis. 
"I see Velocity as a valuable programme for all students – regardless of whether they go on to start a venture. Everyone will need to be a problem solver at some point in their lives, and you gain a ton of transferable skills and experience from working on the team, entering a competition, or attending an event. Velocity is for anyone who wants to jump-start a professional career after graduation." 
Find out more about the University's Velocity entrepreneurship programme.
Women in Engineering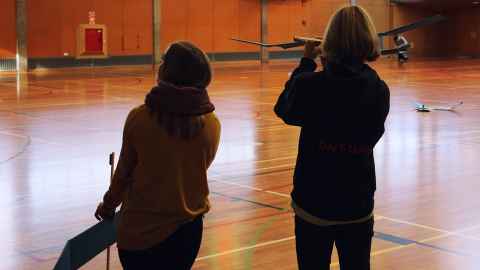 Our Women in Engineering gear up for 2021 
Te Herenga Mātai Pūkaha, the Faculty of Engineering's Women in Engineering team, is dedicated to building connections and confidence for wahine who are studying with us. We also run outreach events to showcase what's possible in the world of engineering. The following are upcoming events specifically for high school students.
 Please note that all our events are open to any student who identifies as female. 
WiE Autumn Camp 
Following the success of last year's camp, we're re-hosting this three-day overnight event. It promises to be full of discovery around the possibilities that Engineering offers – from career opportunities to real-world applications of maths and physics. This camp is free of charge for all successful applicants, and the schedule is packed with Engineering activities. Last year's included building an electric car, printing 3D food, and designing wind turbines. It was all guided by experts and industry role models. 
If you know a Year 12 student who's interested in STEM subjects, creativity, and problem solving, and she isn't already considering Engineering, please tell her about our Autumn Camp. Students can find out more and register.
Buddy programme 
We're also offering a buddy programme for Year 12 and 13 students – six events will be held throughout the year. Each one focuses on a different theme, with our University Buddies guiding participants through social activities and discussions with industry experts. This is a great opportunity for school students to make new friends and be a part of a community of other young women looking to make a difference in the world. 
WiE events calendar
Autumn Camp (for Year 12) - 20–22 April 
Buddy Event 1: Diversity - 12 May 
Buddy Event 2: Engineer Her Student Experience - 8 June 
Enginuity Day (for Year 13) - 15 July 
Buddy Event 3: Robotics Day - 21 July 
Buddy Event 4: Engineering Start-ups - 18 August 
Buddy Event 5: WEN Alumni - 22 September 
WEN Presents 6: Space - 13 October 
Register for updates
To hear about our upcoming WiE events, sign up now.