Read some of the additional articles from the May edition of Link News
O Week wrap up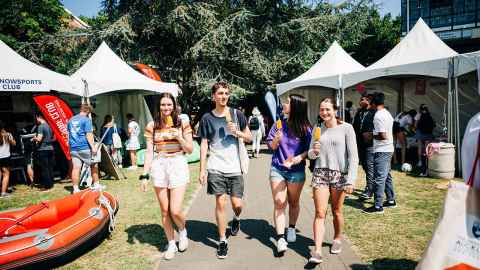 Throughout the first two weeks of Semester One 2019, new students enjoyed a range of events to welcome them to Campus. The events throughout O Week are a perfect opportunity for new students to socialise, make new friends, and engage with likeminded individuals through clubs and sport. Events included:
Halls move in
24 February: 1400 students moved into our four first-year halls from all around Auckland and New Zealand.
Faculty Orientation
25 February – 1 March: Formal meet and greet with key faculty staff and other students enrolled in the same degree. Students were officially welcomed with a Powhiri at Waipapa Marae.
Toga Party
1 March: Rite of passage event on the final day of O Week at the Auckland Town Hall. It's exclusive to first year students.
Beach Day Out
Sunday 3 March: Halls of Residence students concluded their week of welcome activities by taking a trip to Wenderholm Regional Park to relax at the beach and enjoy the Auckland sunshine!
Clubs Expo
4–8 March: This was a great chance to sample some of the University's 200+ clubs, associations and societies – new students found out that across our campuses there's something for everyone!
Party in the Park
7 March: Our O Week concert took over Albert Park. It was a sell-out event this year, and a real highlight of the Auckland University Students Association O Week calendar. There was both an international headline act, RÜFÜS DU SOL, and support from local talent.
University of Auckland and AUT O Week challenge
8 March: Students came to the gym to watch sportspeople from AUT take on the University of Auckland in Basketball, Volleyball and Futsal. Spectators were treated to a free hot dog while they cheered on the University of Auckland teams, who were the overall winners. Great atmosphere!

Why study Communication at the University of Auckland?

In both the public and private sectors, communications professionals are in demand. They play an important role in helping organisations achieve their goals.
The key skills developed through studying Communication include public speaking and presentation, critical and creative thinking, project management, writing, research and intercultural communication. There are great career destinations in broadcast and digital media, sports media, content production, marketing, advertising, public relations, digital communication, and technology. Graduates find themselves working everywhere: from the creative industries to government agencies.
We offer two pathways for studying Communication within the Bachelor of Arts (BA): the BA specialisation in Communication, where students focus most of their learning in Communication courses; and the BA major in Communication, where courses are evenly split between Communication and a second major. Students can combine any other BA major with Communication. Anthropology, Criminology, English, Media, Film and Television, Politics and International Relations, or Sociology would be particularly useful.
Another option is to combine a BA in Communication with another degree as part of a conjoint programme. For example, students could take a BA alongside a Bachelor of Commerce in Marketing to enrich their skills for future careers.
View the video below, and find out lots more at:
www.arts.auckland.ac.nz/communication
Equity Student Profile: Hiraia Haami-Wells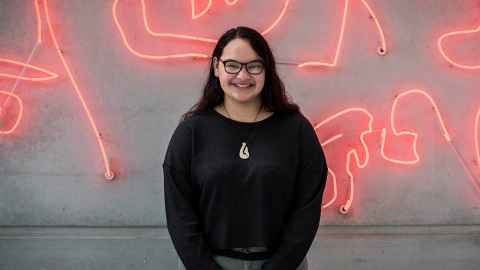 Te Aitanga a Mahaki, Te Ātihaunui-a-Papārangi, Ngāti Tūwharetoa
Second year, Bachelor of Engineering (Hons)
"I was very fortunate to attend St Joseph's Māori Girls' College, Napier, where I was encouraged to further my education and attend University. I chose to study Engineering at the University of Auckland, because it is one of the best Engineering schools in the world."
While adjusting from a small town to a large diverse city, it was very hard to make Auckland my new home. Ngā Tauira Māori (NTM) and South Pacific Indigenous Engineering Students (SPIES) have made the biggest difference to my success. These two associations have become my home away from home, the place where I can be myself, where I can be Māori. Being a part of these associations has allowed me to meet many wonderful people who encourage me to stay true to my culture and to myself. Both associations have social and educational events that benefit you. I have experienced times where they have gone above and beyond to ensure that they can provide what I need to be successful in my studies.
"I credit my success to my whānau, friends and past/present teachers. My whānau have been so supportive by helping me through these past years, and they have shaped me into the young woman I am today. Therefore, it is important to give back to my whānau and marae."
As a Māori woman at this University I have been given many opportunities to give back to my whānau and wider community by encouraging them to further their education. Through NTM I have attended haerenga, where we visit schools around Aotearoa and encourage students to follow their dreams and earn a tertiary qualification.
"About 30% of Māori learners don't make it to the end of high school. This is the harsh reality and it is not because they are not smart enough, but simply because they are not encouraged and have not been given the chance to succeed in their learning. I hope that my degree and time at this University will not only benefit my career but also encourage my wider whānau, friends and rangatahi Māori to break this statistic and follow their dreams."
Kia hora te marino, kia whakapapa pounamu te moana, kia tere te Kārohirohi i mua i tōu huarahi.
May the calm be widespread, may the ocean glisten as greenstone, may the shimmer of light ever dance across your pathway.