Launch of Women's Mentoring Programme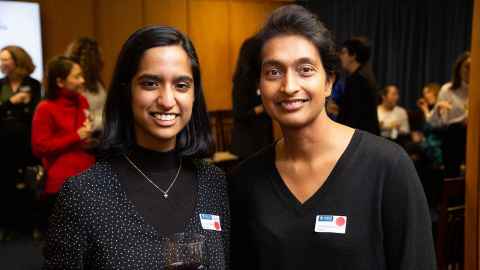 In celebration of International Women's Day in March, this edition's Faculty Focus showcases the Law School's Women's Mentoring Programme.
In 2019, the Law School piloted a Women's Mentoring Programme for senior female LLB students. Run throughout the second semester 2019, with 25 pairs of mentors and mentees, the programme was such a great success that we've expanded it to 50 pairs for 2020. We'll now run it for the entire academic year.
Participants are matched with alumni and friends of the Law School. These mentors are successful women who have five or more years of experience in a variety of industries. The key objective of the programme is to offer a professional development opportunity and provide mentees with the chance to benefit from their mentor's experience and industry knowledge.
The programme has been spearheaded by Pro-Chancellor Cecilia Tarrant, who has run a similar programme at the Business School for the past 10 years. The value of mentoring for women is well documented. There are various mentoring initiatives within the legal industry for young practising lawyers, and we recognised the potential of a programme specifically for female students. One of the many benefits of our new programme is that mentors don't just come from law firms but also from a wide variety of other sectors, including finance, international relations, marketing, and not-for-profits. We'll also support students in their careers as they transition into their first graduate role.
The response to last year's programme was fantastic. The feedback from mentees revealed that the students found it to be an invaluable opportunity to develop relationships with the amazing mentors. We look forward to the growth of the programme and supporting more of our phenomenal female students as they move into their careers.
Equal Justice Project: Students delivering justice for all
The Equal Justice Project (EJP) is a student-driven charity. We use the knowledge and legal skills of volunteering Law School students to promote a culture of inclusivity, equality and easy access to justice for all citizens of Aotearoa New Zealand. EJP is comprised of four teams, each contributing to social justice in their respective capacities.
Pro Bono
The Pro Bono team prides itself on providing analytical support and academic research to practitioners, academics, interested organisations, and community groups that share the values and aims of EJP. The main project for Pro Bono in 2019 was the Save Our Unique Landscape (SOUL) Campaign, relating to the acquisition and intended development of Ihumātao by Fletcher Building Ltd.
Access
The Access team focuses on extending the school outreach programme, with a particular emphasis on lower decile schools. A recent event focusing on the Zero Carbon Bill was a resounding success. We hosted a packed theatre of students and members of the public, who aired a diverse range of perspectives and insights.
Community
The Community team assists community law centres and other community facilities around Auckland. Volunteer students can apply their legal skills in real world settings, helping our most vulnerable citizens who can't afford representation or legal assistance.
Communications
The Communications team is the media hub of EJP, focusing mainly on social media. It works hard to bring to light current social issues by writing opinion pieces and academic articles, and working on bill submissions to Parliament. This year we have covered a wide range of topics, including climate change, pay transparency, drug law reform, hate speech, and Oranga Tamariki.
The Malosi Project
Named after their patron, Judge Ida Malosi, the Malosi Project (MP) is a student-volunteer association made up of prospective Māori and Pasifika law students who wish to give back to communities.
Together with the collective vision of founders Dylan Asafo and Irene Vano, Malosi work with around ten low decile schools. The students run workshops covering academic skills, a future in law as a Māori or Pasifika student, Brown Empowerment and more. One of the newer initiatives, the Malosi Mooting Competition, aims to encourage the presence of community and to develop one of the skills that Malosi are known for: oratory.
Malosi also work with community organisations such as the Pacific Lawyers Association, the Ministry for Pacific Peoples, and the Waitematā Community Law Centre to create Family Protection Legal Aid for the Tongan community.