Why study Science?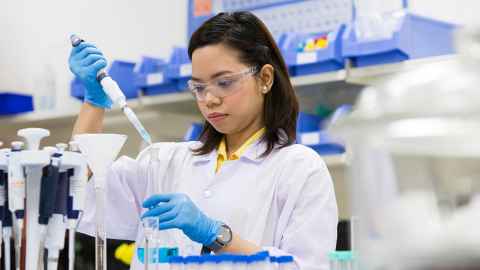 As we tackle global threats, such as the Covid-19 pandemic and climate change, we're also faced with uncertainty around the actions we should take as individuals. It's easy to feel overwhelmed by these issues, and by the disparate voices telling us what to do.
Ours is a world where we have vast choice in the ways we can meaningfully contribute. Why then should students choose to study Science?
Understand the world – and change it
We're living in a time of global challenges that require united approaches. Your students can be part of that change. By studying Science, they can delve right into the heart of issues like air pollution, climate change, and food supply. They can have an impact by contributing to scientific knowledge and by communicating the facts and evidence-based solutions to policy makers, governments and the general public.
Be creative
Science is all about observation and experimentation, but it's also akin to subjects that are traditionally viewed as "creative". Scientists use their imagination and unique perspectives to interrogate the status quo and to create new hypotheses. They collaborate with other scientists and discuss their ideas. They design and run experiments to prove or disprove hypotheses, and communicate their findings to fellow scientists and the general public. Creativity plays a huge part in the scientific process.
Develop universal skills
There are lots of different areas of Science, each with unique aspects – but they all rely on universal skills that your students will develop. They'll learn to work with large amounts of information, analyse data, and draw conclusions from evidence. They'll also develop and present solutions to complex problems. The associated skills are not only critical for scientists, but also in the modern workplace and the world in general.
Satisfy your curiosity
Science never stops. Scientists are constantly discovering new things about the world and revising what we once considered fact. Our Science students are also curious about their environment and the way things work. They learn from researchers at the cutting edge of investigation within their fields. For instance, University of Auckland scientists are making the internet safer, protecting native species and environments, and searching for vaccines against diseases such as Covid-19. Your students could contribute to our collective knowledge base.
Open the door
Many career pathways and opportunities are open to our Science graduates. They work in the great outdoors. They explore complex systems. They develop new drugs. They work in clinical environments. They teach in schools. Essentially they help others. Our graduates have many and varied skills that are sought after by employers in various science and non-science industries. They're very well suited for roles that rely on communication, analytical thinking, and problem-solving. Studying Science opens doors – and keeps them open.
Which science subjects should your students choose?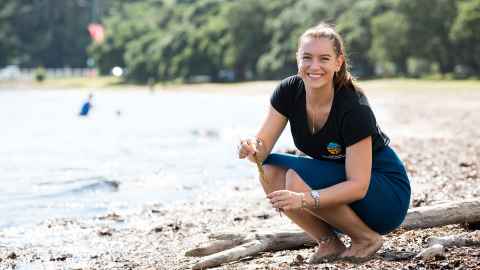 Our webinar series introduces our five areas of study in Science:
Biological, Health and Life Sciences
Chemical and Physical Sciences
Earth and Environmental Sciences
Human, Social and Behavioural Sciences
Mathematical and Computational Sciences
Listen to what our Student Academic Advisers have to say about the Bachelor of Science, Bachelor of Advanced Science (Honours) and conjoint degrees. They also explain how to make course choices that best reflect your students' interests.
We cover the fun aspects of student life too! Hear about our student-led clubs and programmes such as Tuākana and Science Scholars.
Download the webinars to learn more about the subjects you can study in Science.
Applied Physics: New specialisation for the Bachelor of Advanced Science (Honours)
Applied Physics is the latest specialisation on offer within our Bachelor of Advanced Science (Honours) programme.* There's strong demand, both locally and internationally, for Applied Physics graduates.
The four-year honours degree aims to equip students with a strong base of core physics knowledge as well as a broad range of interdisciplinary skills sought in both industry and the scientific research sector.
The programme targets five areas of Applied Physics: Computational Science, Medical Physics and Imaging Technology (MPIT), Nano and Materials Physics, Photonics, and Space Systems. There is significant demand for graduates in these areas, and the Physics Department already has strong applied research programmes.
Find out about the benefits and opportunities of a degree in Applied Physics.
* Subject to standard regulatory approval

Science Scholars
Our Science Scholars are selected from the Bachelor of Science and Bachelor of Advanced Science (Honours) programmes. They're passionate about their studies, so we offer them one-on-one mentoring, cross-disciplinary interaction and opportunities to take part in research that aren't usually available in undergraduate study.
We also have two scholarships worth $1,000 available. Anyone who is accepted into the programme is welcome to apply. It's a great financial boost for buying things like a laptop or textbooks.
Matt Illing
Science Scholar
Programme: Bachelor of Advanced Science (Honours) – Environmental Change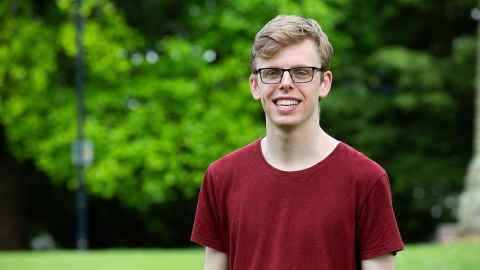 "I've always been passionate about the environment and particularly in the science of our changing climate. When I was deciding what to study, I found that it was impossible for me to choose only one or two majors. Studying Environmental Change means that I can take my pick of courses from Geography, Earth Sciences, Environmental Science, Marine Science and more! The freedom to pick and choose from multiple majors really drew me to this programme.
"As a member of Science Scholars, I had to write a popular science article on a topic of my choosing. I chose paleoclimatology (past climate change), a subject I'm really interested in. I had to try and take a complicated topic and explain it in a way that someone with no understanding of the complexities of climate change would be able to understand. This was challenging but I really enjoyed practicing science communication in a topic I'm passionate about.
"The University of Auckland is the only university that offers the Bachelor of Advanced Science (Honours) and all its perks. It is also the best university in New Zealand for Geography and the Environmental Sciences. I saw the breadth of the School of Environment courses here at Auckland and the facilities available, and it would have been a mistake to go anywhere else.
"At the moment I would like to continue my education through to postgraduate level. The Bachelor of Advanced Science (Honours) programme can lead straight onto PhD study,which is really appealing to me. I am really interested in studying climate change and its effects, past, present and future. I hope that one day I will be able to undertake research that will help humanity fight climate change."
Discover more about the $1,000 scholarship available to our Science Scholars.