"She had a great impact on many of us": Dr Hilary Chung passes away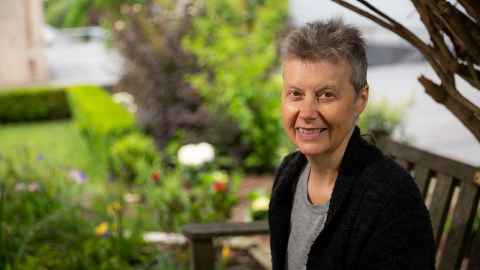 We are deeply saddened to announce that Dr Hilary Chung, the inspiring and energetic director of the Global Studies programme at the University of Auckland, passed away in August. Dr Chung, who also founded the Global Studies programme, had been battling cancer for some years.
Her passing is being mourned by the University and wider community. Dean of Arts, Professor Robert Greenberg, a long-time friend, wrote of the great impact that she had on many people. "Hilary was so passionate about everything she did and was instrumental in building up our very successful Global Studies programme. I know what a great impact she had on so many of us and on her students."
Hilary also touched the lives of many school students, and we know that her presence in schools will be deeply missed. The Faculty of Arts will be organising a celebration of her life at the University.
Faculty of Arts: Introducing our new Schools Outreach and Recruitment Manager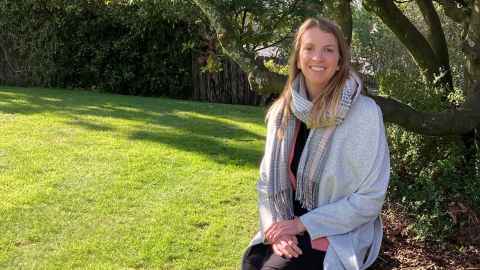 The Faculty of Arts is delighted to announce Jenny Jefferson as the new Schools Outreach and Recruitment Manager while Ainsley O'Connell is on maternity leave.
"As a BA graduate, a former teacher, and the first in my family to attend university, I'm passionate about supporting students to access higher education. I've worked alongside many students and schools in my previous role at Ako Mātātupu: Teach First NZ and am excited to continue doing so in this role.
"There are many ways in which the Faculty of Arts can support student learning and success in your school. These include professional development opportunities for teaching staff. We've also been busy developing online resources for students, most recently creating videos to celebrate Matariki.
"If you're a teacher or careers adviser looking for ways to connect your students or staff with the Faculty of Arts, or if you have student engagement ideas that you would like to explore, then please do get in touch."
To arrange a visit for your school, email Jenny on j.jefferson@auckland.ac.nz or complete a form.
Unleash Space hackathon electrifies gaming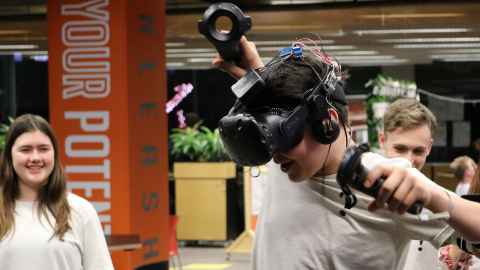 This year saw the University host Kiwijam for the first time. This annual gaming hackathon took place in our innovation and entrepreneurship hub, Unleash Space.
Over the course of 48 hours, teams formed and then developed games that addressed this year's theme: "On the Brink". By the end of the weekend, participants had produced prototypes for 33 games, including Kākāpō Frenzy (users must keep farming so that no kākāpō dies) and Schrödinger's House (stop cats from knocking crockery off kitchen benches). One group of high-school students from Whangārei even designed a game using electrostimulation pads that shock your arm into contracting when you fire a gun, giving the sensation of recoil.
Kiwijam co-host Zac Miller-Waugh said the innovation hub and makerspace was an ideal venue. "Kiwijam is about celebrating experimentation, success, and failure. Unleash Space is the perfect venue for experimentation and collaboration like this – there were plenty of whiteboards, moving TVs, rearrangeable seating and desks, and lots of power and internet. Our participants loved it."
The game development industry in New Zealand earned $203.4 million in 2019, double what it made in 2017. Zac says that this is hopefully just the beginning. "There are some fantastic things happening in the New Zealand game development industry, with new indie games gaining traction and international success. The 'Kiwi' brand of games is diverse and creative, but I would love to be able to see more support and funding from the government and universities to encourage game start-ups in the same way the film industry has. With the right support, this could continue to grow into a massive, long-lasting industry."
The event was organised by current Engineering, Science and Business students of the University of Auckland, along with CTO of Ara Journeys, Ben Kenobi. Find out more about Kiwijam.
Free for all staff and students at the University, Unleash Space is an environment for creating, playing, making, inventing, experimenting and doing.