State-of-art glasses connect staff member and alumnus Fraser Alexander to a virtual assistant.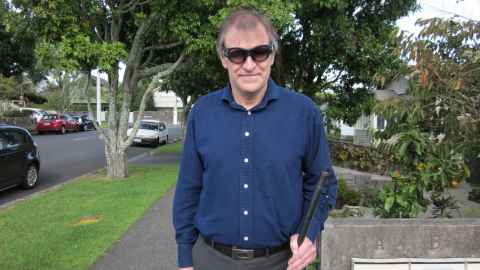 Fraser Alexander recently started using high-tech glasses that connect him to a virtual assistant and says it has been a game-changer for navigating around campus.
The remote assistant can see what admin manager for gift planning Fraser is looking at through a camera and direct him or read signs out loud, or they can use GPS to help Fraser navigate.
The only catch with the Aira technology is students and staff see a man with a cane, and offer to help, making it difficult to hear the virtual assistant.
"Some people even grab my elbow," Fraser says. "There's no way they could realise I'm getting virtual assistance through an ear-bud."
Fraser's manager, director of Alumni Relations and Development Mark Bentley, says he was pleased to be able to approve Fraser's access to Aira.
"It allows him to independently perform a variety of advanced tasks and communications that would be a struggle otherwise."
Mark is pleased he has been able to support Fraser in a number of ways, including work-related taxi travel, administrative support and blindness-specific equipment, applications and software.
Fraser is an alumnus himself, having graduated with a BSc, majoring in Chemistry and Pharmacology, in the 1980s.
"At that time I had good functioning vision, so didn't receive any support.
"Had the technologies we have now been available back then, and I had the motivation to explore their potential, I might have used Student Disability Services to investigate how I could operate more efficiently," Fraser says.
Staff can start the process of accessing support by talking to their manager, HR services or the Equity Office. It is useful to update your profile to confidentially identify that you have a disability.