July 2022: Pro V-C Pacific Jemaima Tiatia; ABI's Geoffrey Handsfield; athlete Imogen Ayris; Kitiona Pasene helping students.; University waiata. Plus 'In the News','Good to Know', Books, Art and Culture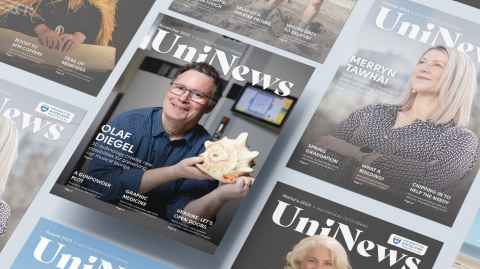 Cover story
The University's new Pro Vice-Chancellor Pacific, Jemaima Tiatia, says she will be an effective leader by bringing her whole authentic self to the table.

Features
Kitiona Pasene is part of a new approach to engaging with young people to boost their knowledge of university's benefits.

Veeran Morar is delighted to have a job on Vision Bus Aotearoa, taking eye healthcare to those who may not have had it otherwise.

Pole vaulter Imogen Ayris, a science student at the University of Auckland, is off to the Commonwealth Games and hopes her good form brings reward.

Dr Geoffrey Handsfield is hard at work on research into cerebral palsy that could change lives. But he also makes sure his own parasympathetic nervous system gets plenty of rest – through immersion in nature.
The University waiata Ruia is now a decade old, and Kaiarataki Michael Steedman would like a big group to sing it. 
Natalia Booth is Russian and works in the School of Population Health. She likens the war in Ukraine to gender-based domestic violence and says we can not accept it. 
All these items on interactive PDF 
In the News (pg 2 of PDF)
Professor Jennifer Curtin
Professor Grant Covic
Associate Professor Gehan Gunasekara 
Professor Richard Easther
Associate Professor Margaret Stanley 
Professor Anthony Hoete

'Good to Know' stories
Sir Collin Tukuitonga pg 4
Vision Bus pg 4
Athlete Imogen Ayris pg 5
High-tech tools to beat asthma pg 9
Arts and Culture
Kupe scholars and Pacific Art 
Gina Cole pg 11
Books pg 11

Thief, Convict, Pirate, Wife: The Many Histories of Charlotte Badger
Jennifer Ashton, Auckland University Press, $35

Te Koroua me te Moana
Ernest Hemingway, translated by Greg Koia, Auckland University Press, $30

No Other Place to Stand: An Anthology of Climate Change Poetry from Aotearoa New Zealand
Edited by Jordan Hamel, Rebecca Hawkes, Erik Kennedy, Essa Ranapiri, Auckland University Press, $30

Puripāha: Te Pane Kaewa
Witi Ihimaera, translated into te reo Māori by Ruth Smith, Auckland University Press, $40

GOT A STORY IDEA? GET IT TO US
Email us: uninews@auckland.ac.nz
Copy deadline is the 15th of the month prior to the month of publication. Ideas welcome any time. 
UniNews editor
Denise Montgomery
DDI: +64 9 923 6061 In normal times, in the office Tuesday-Thursday 
Phone diverts to Skype for Business outside of these times. 
Mobile: 027 224 0181 Monday to Friday