December 2022: Matire Harwood, Chris Shaw, Farzaneh Haghighi, Andrew Patterson. Plus 'In the News', Good to Know and Arts, Culture and Books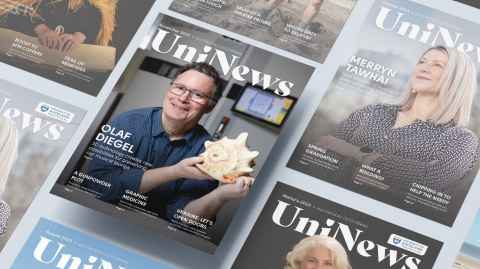 Cover story
Dr Matire Harwood talks about the challenges and rewards of being a Māori academic and general practitioner.

Features
Selected students will collaborate on global projects as part of a new opportunity called Future 17. Andrew Patterson explains. 

Professor Chris Shaw has spent his career hunting for rogue genes and collaborating to share insights into brain diseases.
Master of Creative Writing student Yvette Thomas has won first place in the 2022 Caselberg Trust International Poetry Prize.
Opinion: Dr Farzaneh Haghighi is disturbed by the unprecedented violence against the Iranian people, especially women. 
All these items on interactive PDF 
In the News (pg 2 of PDF)
Dr João Albuquerque
Professor Bodo Lang
Dr Subhamoy Ganguly
Associate Professor Walescka Pino-Ojeda
Dr Timothy Welch
Dr Ramari Stewart

'Good to Know' stories
Liggins Lab gets green tick pg 4
Microplastics and Sam Ladewig pg 4
Dr Tess Moeke-Maxwell pg 5
Esports pg 5
Te Ahi Hangarau pg 5

Arts and Culture
Students' projects in Special Collections pg 10
Poet Yvette Thomas pg 10
Opera Scenes pg 10


BOOKS
Comrade: Bill Andersen – A Communist, Working-Class Life 
Cybèle Locke, Bridget Williams Books, $50

Towards a Grammar of Race in Aotearoa New Zealand
Eds Arcia Tecun, Lana Lopesi and Anisha Sankar, Bridget William Books, $40

Privacy Law in New Zealand
Nikki Chamberlain and Stephen Penk,Thomson Reuters, $189, out 23 December

Quinoa, Chemistry and Technology
Fan Zu, Academic Press, $240 (Kindle $180)

If you have a book to tell people about, email: uninews@auckland.ac.nz

GOT A STORY IDEA? GET IT TO US
Email us: uninews@auckland.ac.nz
Copy deadline is the 15th of the month prior to the month of publication. Ideas welcome any time. 
UniNews editor
Denise Montgomery
DDI: +64 9 923 6061 In normal times, in the office Tuesday-Thursday 
Phone diverts to Skype for Business outside of these times. 
Mobile: 027 224 0181 Monday to Friday