November 2023: Professor Olaf Diegel; Professor David Williams' scientific life; Obituaries Don Smith and Dame Alison Quentin-Baxter, Ayesha Green art; Dr Misha Vorobyev, Good to Know plus lots of books!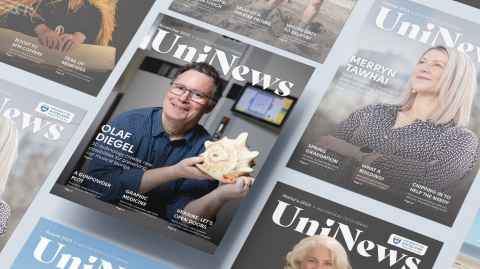 Cover story
3D-printed reproductions of Māori musical instruments are shaping a new era in how we safeguard and share our cultural treasures.

Other stories
Professor David Williams is partial to blowing things up. In retirement, he's happy to cool things a bit.

Ayesha Green's Untitled 2021 spotlights both the troubling history and the enriching, optimistic future of education for Māori girls and women in Aotearoa and beyond. 
Russian-born academic Dr Misha Vorobyev outlines some of the issues in the war on Ukraine and states the case for New Zealand to allow more Ukrainian refugees into the country.
All these items on interactive PDF 
In the News (pg 2 of PDF)
Dr Geoffrey Handsfield
Dr Kyle Eggleton
Professor Winston Byblow
Dr Geoff Willmott
Associate Professor Alice Mills
Associate Professor Hanna Wilberg

'Good to Know' stories
Epeli Hau'ofa: posthumous honorary doctorate pg 4 
Professor Neal Curtis: comics conveying information about brain tumours pg 4, Full story online
Blues winners 2023 pg 5
Velocity $100k winners pg 5
Taumata Rau Conversations event: health workforce pg 6
Hood Fellowships: academics to Auckland 2024, pg 6
Horizon Europe funding successes, pg 6
Obituaries pg 7
Donal Ian Brice Smith, 4 February 1934 – 27 September 2023
Dame Alison Burns Quentin Baxter 28 December 1929  – 30 September 2023
Arts and Culture
Ayesha Green art, pg 10, link above

Launch of Greg O'Brien's book Don Binney: Flight Path pg 11
Read the full story and watch the video of the launch event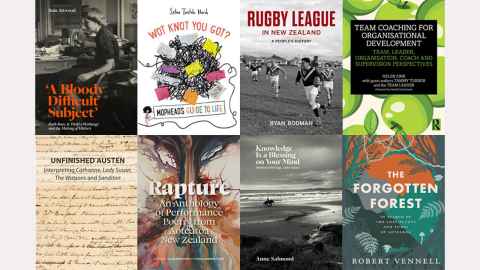 Books
Rapture: An Anthology of Performance Poetry from Aotearoa New Zealand
Eds Carrie Rudzinski and Grace Iwashita-Taylor, AUP, $60, out on 9 November
Unfinished Austen: Interpreting Catharine, Lady Susan, The Watsons and Sanditon
Joanne Wilkes, Anthem Press, $35
Rugby League in New Zealand: A People's History
Ryan Bodman, Bridget Williams Books, $60

The Forgotten Forest: In Search of the Lost Plants and Fungi of Aotearoa
Robert Vennell, HarperCollins NZ, $40
Team Coaching for Organisational Development
Helen Zink, Routledge, $63
Wot Knot You Got? Mophead's Guide to Life
Selina Tusitala Marsh, AUP, $30, out 9 November
Knowledge Is a Blessing on Your Mind, Selected Writings, 1980-2020
Anne Salmond, AUP, $65, out on 20 November
A Bloody Difficult Subject
Bain Attwood, AUP, $60
If you have a book to tell people about, email uninews@auckland.ac.nz
GOT A STORY IDEA? GET IT TO US
Email us: uninews@auckland.ac.nz
Copy deadline is the 14th of the month prior to the month of publication. Ideas welcome any time.  The final issue of the year is December and UniNews returns in March, with a copy deadline of 14 February 2024.
UniNews editor
Denise Montgomery
DDI: +64 9 923 6061 In normal times, in the office Tuesday-Thursday 
Phone diverts to Skype for Business outside of these times. 
Mobile: 027 224 0181 Monday to Friday