December 2021: Getting to know Provost Valerie Linton; Marsden Medal winner Ginny Braun; Diane Brand; Anne Bardsley; Wikuki Kingi; Andrew Hall; Alofa So'olefai; Obituary Michael Corballis.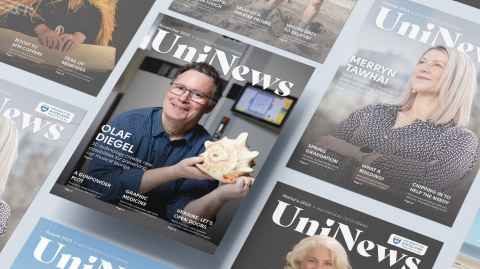 Cover story
In July, Professor Valerie Linton became the University's first Provost. She explains where she's from and what she brings to the important position. 

Features
Professor Ginny Braun is a recent recipient of the Marsden Medal and has spent her academic career as a qualitative researcher unpacking societal meanings and norms.

Diane Brand says the move from professional architect to academia was liberating. Now she's taking another step.

Wikuki Kingi is a tōhunga toi ake and master carver and now the Kaiārahi for the Faculty of Creative Arts and Industries.

Alofa So'olefai, is on a mission to amplify the student voice.
Dr Andrew Hall and others from Engineering are contributing to the fast-developing technology being created for EV racing cars.
For long locked-down Aucklanders, despite eased restrictions, a post-pandemic future may seem a long time coming. But what about the rest of the world?
All these items on PDF only
In the News (Pg 2 of PDF)
Professor Renate Meyer
Dr Chris Wilson
Dr Andrew Chen
Dr Meghan Hill
Associate Professor Stephen Hoadley

'Good to Know' stories
Honours wide and far including Royal Society Pg 4
Professor Klaus Bosselmann Pg 4
Obituary: Emeritus Professor Michael (Mike) Corballis Pg 4
Erica Farrelly Pg 5
Best of 2021 Pg 9

Toi me te Ahurea Art and Culture
AUP in Book Design Awards Pg 11
Book pg 11
Hei Taonga mā ngā Uri Whakatipu Treasures for the Rising Generation 
The Dominion Museum Ethnological Expeditions 1919–1923
Editors Dr Wayne Ngata and Dame Anne Salmond, Te Papa Press
GOT A STORY IDEA? GET IT TO US
Email us: uninews@auckland.ac.nz
Copy deadline is the 15th of the month prior to the month of publication. The copy deadline for the first issue of 2022 is 11 February. Ideas welcome any time. 
UniNews editor
Denise Montgomery
DDI: +64 9 923 6061 In normal times, in the office Tuesday-Thursday 
Phone diverts to Skype for Business outside of these times. 
Mobile: 027 224 0181 Monday to Friday