Inside the November 2019 issue of UniNews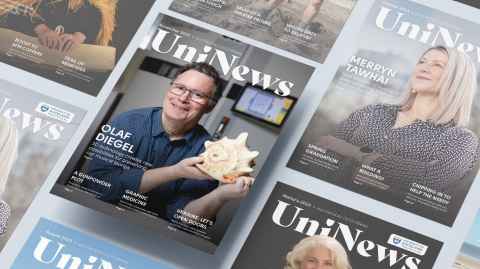 Cover story

What's New
Tamaki: end of an era 
Say farewell to the Shadz
Waste not, want not
Researchers honoured
Making space for pioneer
A room in the Hoadley name 
Research
Solid walls of sound: Andrew Hall
The cost of e-scooters
Arts and Culture
BOOKS:
Colin McCahon: There Is Only One Direction 1919-1959
Volcanoes of Auckland: A Field Guide
Mophead: How Your Difference Make a Difference
#NoFly: Walking the Talk on Climate Change
Females in the Frame: Women, Art, and Crime
The Chinese Dream: Education the Future
EVENTS:
Dance Performance Series 2019 6, 9, 13 and 16 November
Modos Thesis Show 2019 15-16 November
Liggins Institute Public Lecture 26 November 
October cover story
Predicting outcomes
Neuroscientist Cathy Stinear: professor helping revolutionise stroke rehabilitation.
Features
My Story: Valeria Vergara
Val Vergara is manager of the Staff Common Room at OGH.
Spring Graduation
Three graduate stories that capture the imagination.
Regular sections
Māramatanga
HART and SOUL
Trevor Richards will appear in an event at the University on 30 October. He reflects on the protests of the 1970s that changed a nation.
What's New
Muss-Bits gadget making a difference
Haere Rā Tāmaki: the innovation campus farewell
What we're doing in the Shadows: News about Shadows bar
Innovative new Blues Awards
Rocket Man honoured
Just the Business: Tony Falkenstein

Snapshots
Motivations of a mophead, Selina Tusitala-Marsh book
Successful SDG summit
Increased numbers at Open Day
FMHS Asian cultural festival
Culture and Events
Critical Encounters: Tuia 250
Cultural Collections has developed a programme of exhibitions, playlists and talks that offers a range of perspectives and approaches to the 250th anniversary of meetings between Māori and James Cook's Endeavour crew in 1769-70.
Daniel Solander Seminar and Paradise Lost: Solander's Legacy.
Business Talks
Environmentalist Sir Jonathon Porritt on the Role of Higher Education and Tertiary Institutions at a Time of Climate Emergency'.
Inaugural lecture by Professor Charl De Villiers – sustainability accounting 17 October
Inaugural lecture by Professor Leo Paas – big data 29 October
Gaudemus concert: 18 October 1.10pm, St Andrew's Presbyterian Church, Symonds Street.