Improving quality of life and health outcomes by designing non-invasive methods for managing debilitating health challenges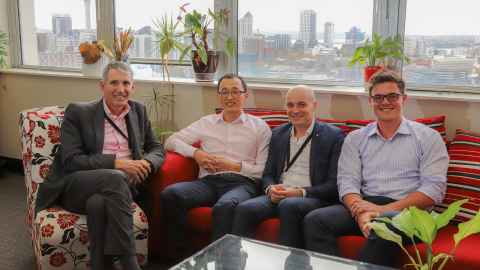 Professor Ian Bissett, Head of Surgery, Dr Tony Lin, Fellow in Surgery and Doctoral Candidate, Associate Professor Greg O'Grady, and James Penfold, Honours Candidate, School of Medicine, Faculty of Medical and Health Sciences.

One in 8 adults in New Zealand suffer from faecal incontinence and, despite the direct impact that the condition has on quality of life, access to care is limited. Our team designs tools that can be made available widely to both investigate and develop non-invasive treatment for this condition. This research has the potential to proportionally benefit sectors of society who are more frequently afflicted with incontinence. 
So, while the research helps to improve health and well-being it also reduce inequalities when marginalised or minority ethnic groups are particularly afflicted. The project involves close collaboration between bioengineers and clinicians managing patients who suffer with this debilitating condition, and thereby also demonstrates the value of partnerships in contributing to the Sustainable Development Goals.