Using inter-disciplinary knowledge and the high profile global clothing industry to spark sustainable thinking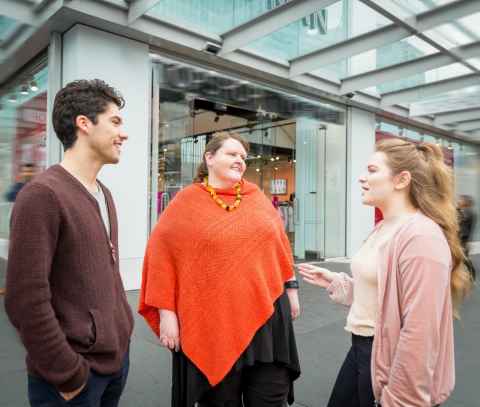 Andrea Mead (centre), Professional Teaching Fellow, with Reuben Yates, Honours Candidate, and Ellinor King, Masters Candidate, Psychology, Faculty of Science.
For the past three semesters, teaching staff in Psychology, Chemistry and Sociology have offered an interdisciplinary teaching unit on the global clothing industry. Students all watch the film The True Cost, which gives a comprehensive overview of this industry, including how fashion is marketed, the conditions of workers, and its impact on the environment. Next, students receive a series of discipline-specific lectures in their home course. Students then come together to share their knowledge through presentations and discussions. They are assessed on both their ability to communicate their knowledge to people outside their area, and what they have learnt from the students in the other disciplines. In 2017 we received a university teaching SEED grant and Ellie and Reuben received Faculty of Science Sustainability Research Awards. This funding has enabled us to evaluate the teaching unit and make a short video to share the process with others.