The Centre for Green Chemical Science: Solving global sustainability issues through interdisciplinary research, education and public engagement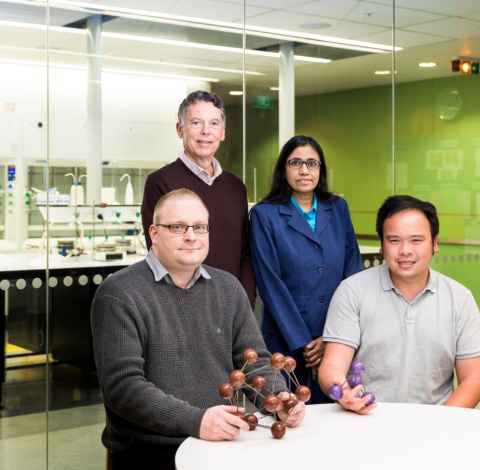 Professor James Wright, Director (top), with Associate Professor Jon Sperry, Dr Viji Sarojini and Dr Ivan Leung, Deputy Directors, Centre for Green Chemical Science, Chemical Sciences, Faculty of Science.

Green Chemical Science involves the use of chemical principles, science and technology to tackle pressing global sustainability issues and advance society in ways that are sustainable and benign to the environment. The Centre for Green Chemical Science embraces these ideas and strives to find sustainable solutions by promoting interdisciplinary research, education, engagement with industry, and public outreach in the broad area of Green Chemical Science.
The 26 scientists and 15 research students associated with the Centre span the Faculties of Science, Engineering, and Medical and Health Sciences. Research activities include sustainable synthesis, waste to value, renewable energy, pure water, and pollution prevention. As part of the Centre's education goals, two new Green Chemistry courses have been developed and a Green Chemical Science BSc Specialisation is on target for introduction in 2019. In outreach activities the Centre has hosted one industry meeting, two symposia and a two-day international Conference on Green Chemistry.