Faculty of Science Sustainability Network – bringing people together to grow a sustainability culture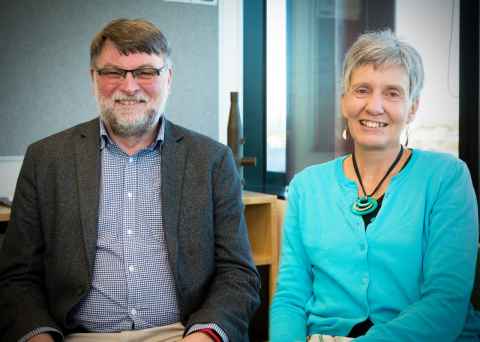 Professor John Hosking, Dean, with Professor Niki Harré, Psychology, and inaugural Associate Dean (Sustainability), Faculty of Science.

We are a group of staff who care about flourishing people and thriving ecosystems, and the role our faculty and the university can play in creating these. The network includes both professional and academic staff from across the Faculty of Science. Members are invited to contribute their ideas and expertise and where appropriate to work with and support others. Any staff member in the faculty is welcome to join and suggest projects. Our initiatives include compost bins in all the kitchens in the Science Centre; an interdisciplinary teaching unit on the global clothing industry that includes Psychology, Chemistry and Sociology; a sustainable laboratories group that conducts self-audits and aims to reduce resource use; sustainability research awards for students; and a public seminar series that includes both university and guest speakers. We'd love to work with other faculties and service units, so please get in touch!