The University of Auckland has two Volunteer Alumni Coordinators (VAC) in Jakarta: Craig Hansen and Mardian Marsono.
New Zealand - Indonesia Group (NZID)
Alumni living or working in Indonesia are invited to connect with others who have studied in New Zealand by joining the New Zealand - Indonesia (NZID) group on social media.
VAC profile: Craig Hansen (PhD candidate, Master of Education (Honours), Bachelor of Arts, Diploma of Teaching)
After graduating from the University in 2000, Craig led a number of schools as a Principal before moving to Jakarta to work as the Head of School for Singapore International School. He now heads Creative Technology at the brand-new Springfield senior campus.
Life in Indonesia is full of excitement for Craig. He plans to travel the country with his family and explore the beaches. "When I sink into the sea, I am in heaven," he says.
Craig also enjoys volunteering at local orphanage events and spending time with his three children. Inspired by leadership teaching podcasts and his faith, he hopes to increase his involvement in humanitarian projects in the future.
Between working and raising his family, Craig is currently studying for his PhD at the University of Auckland via distance learning. He maintains strong connections with the University and has fond memories of his time at the College of Education (now the Faculty of Education and Social Work). He loved the "gym, pool, library and how close it was to Newmarket, where we escaped for lunch."
Craig has simple words of advice for new students. "I was 16 when I started my studies and was not as focused as I needed to be," he says.
"Go to all the classes, read the textbook and get feedback on assignments before handing them in."
He also suggests making the most of what Auckland has to offer. "Get to Piha and surf more!"
Craig would love to hear from alumni based in Jakarta.
VAC profile: Mardian Marsono (Master of Arts with First Class Honours, Postgraduate Diploma in Arts)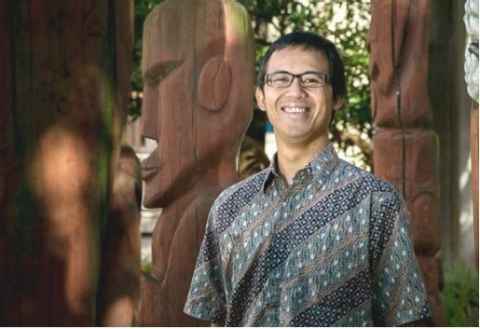 Mardian came to New Zealand from Indonesia in 2012 as a graduate student. He spent 22 months living, studying, and working in Auckland before returning home, where he accepted an exciting position as a project manager.
Mardian says that studying at the University was one of the boldest decisions he has ever made. "I had to choose between staying in the place I worked and studying. I risked a comfortable life and career progression. But it was what I had been dreaming of, so I took the chance and flew to New Zealand."
He remembers the openness and kindness he experienced as an international student. Despite being the only Indonesian in his group of friends, he always felt welcomed. "The Kiwis are indeed friendly people!"
Moving to Auckland proved to be life-changing. "It was one of the most precious experiences I've had," says Mardian.
"It helped me to be as I am today."
Mardian now works for a corporate social responsibility consulting company in Jakarta. His role entails helping businesses to incorporate social and environmental concerns into their operations. He engages with a diverse client base from around Indonesia, which necessitates frequent travel. He loves seeing the country from the perspectives of different cities.
Mardian also enjoys playing indoor football and relaxing with his friends. He emphasises that balance is an important part of life, especially as a student.
"There is a time when you have to put the highest focus on the academics. But in your spare time, get together with your friends or do some activities that can help you turn down the pressure."
Mardian is interested in hearing from alumni based in Jakarta.