Meet our Singapore-based alumni coordinators, Winsie Chen and Calven Bland, join the Singapore Alumni Network on social media, or learn about the New Zealand Chamber of Commerce (Singapore).
Singapore Alumni Network
University alumni are encouraged to join the University of Auckland Singapore Alumni Network to stay in touch with other alumni living and working in Singapore.
VAC profile: Winsie Chen (Bachelor of Commerce)
Winsie studied a Bachelor of Commerce, majoring in Accounting and Finance, and is now a Research Analyst at DBS Bank in Singapore.
Winsie originally applied for a six-month internship with the intention of moving back to Auckland. "Six months became seven years and still counting," she reveals.
Winsie counts relocating to Singapore as one of the most adventurous things she has ever done, arriving with only a gym bag and without knowing anybody.
"Worse still, no visa or no money," she laughs.
Winsie thinks the best things about Singapore are its location and low tax rate. It also has plenty of opportunities for her to explore her interest in theatre. She loves watching plays, French movies and occasionally musicals.
Winsie remembers Corporate Finance being her favourite class while at the University. "Professor Jerry Bowman rocks," she says.
She also has fond memories of reserving a desk at the Information Commons and sneaking outside for meals, hoping that her belongings wouldn't be cleared away by the staff.
Winsie would love to hear from alumni based in Singapore.
VAC profile: Calven Bland (Bachelor of Engineering)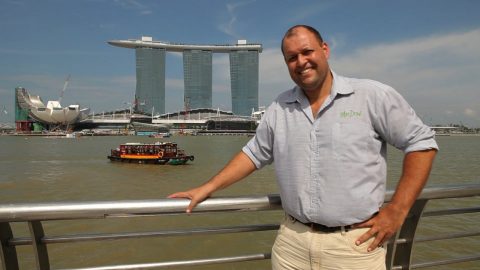 Calven studied a Bachelor of Engineering, majoring in Civil Engineering. While a student at the University, he was President of the Engineering Society and of the South Pacific Island Engineering Students group. He also did a two-year stint as Sports Director of the Auckland University Students' Association Easter and Winter Tournament.
After graduating, Calven joined McConnell Dowell and spent six years working in the Pacific Islands. He traversed the remote islands of Tau in American Samoa, took a short trip to Pitcairn Island and had three fabulous years in Western Samoa. He even got to spend some time getting back to his Fijian roots in Suva.
Eventually, Calven was seconded to Singapore for a 12-month civil marine project. But 12 months became 12 years and now includes a Singaporean wife, two children and the role of Business Development Manager for McConnell Dowell in Southeast Asia!
Outside of work, Calven has served in the New Zealand Army Territorial Force as a Movement Operator for many years. He has undertaken three operational deployments to Antarctica as part of Operation Deepfreeze, and recently completed his Singaporean military training at 44 years of age.
Calven also loves rugby. He sits on a number of committees and boards, and founded a rugby club for kids in late 2013. Starting with two coaches and four kids, Titans RFC now has over 20 staff and 170 players of all ages. Calven still proudly enjoys trotting out onto the paddock as a veteran's grade player!
Calven would love to hear from alumni based in Singapore.
The New Zealand Chamber of Commerce (Singapore)
The New Zealand Chamber of Commerce in Singapore provides a platform to engage with local businesses and maintain connections with New Zealand.