Introducing your Volunteer Alumni Coordinator
Gia Punjabi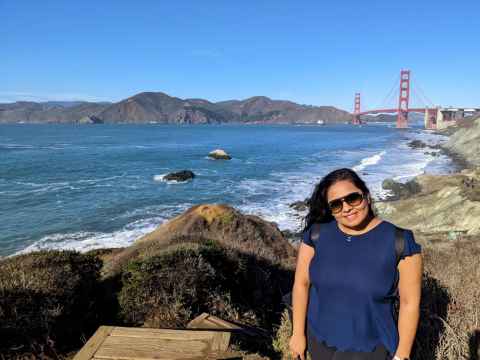 Qualification: Bachelor of Commerce and Science, Chartered Accountant
Current Role: Corporate Finance Manager, Pendulum Therapeutics
"Planning an active social life around my university studies helped me develop essential skills for a busy life" says Gia Punjabi. "Juggling assignments, club activities, and socializing at our favorite spot, Shadows, almost gave me an unofficial degree in multitasking by the time I graduated!". Since then she has maintained her enthusiasm for connecting, learning and growing from the people, and the world around her.
After first visiting San Francisco during an exchange between the University of Auckland and University of California she says it was the Bay Area's breathtaking natural landscapes and cutting-edge technological innovations that hooked her.
As the Finance Manager for a biotech startup, Gia's days are filled with numbers and strategic planning. To maintain balance, she enjoys activities like wine tasting in Napa Valley and hiking. Her love for nature and commitment tosustainability make her dream of speaking to Sir David Attenborough in person, as his voice represents the Earth and the path to a sustainable future. 
Volunteering to support job seekers in San Francisco and leading the Lean In San Francisco network of over 3,000 ambitious women, Gia is well integrated into her hometown community but she still finds time to support her fellow UoA alumni, and the University, as one of our longest standing Alumni Coordinators. "University experiences are significant. I wanted to provide a platform for ongoing engagement for alumni – as well as giving back to the community that shaped me." 
Alumni gatherings offer quick connections, meaningful conversations, and career-enhancing opportunities. "Come join us at our upcoming event and experience firsthand the countless advantages of maintaining connections with your fellow alumni and the University!"

Keep up-to-date on the latest alumni events and networking opportunities by joining the University of Auckland San Francisco Alumni social media groups.