Environmental advocacy in action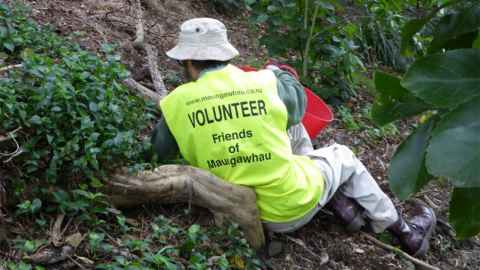 University of Auckland alumnus Geoffrey Hinds is dedicated to combatting climate change through volunteering.
For the Mount Eden resident, environmental action begins at home. Geoffrey believes Mount Eden, known as Maungawhau in Te Reo Māori, is a treasure that deserves to be protected. He says he has spent "many" hours caring for it since 2015 alongside other members of the Friends of Maungawhau group.
"The maunga is a major asset of our city. I have worked over the last four years with a Tuesday morning volunteer group weeding and planting on the slopes of Maungawhau."
The group is committed to maintaining the mountain by clearing away invasive weeds and replanting native species.
Political advocacy is also an important part of their work. Geoffrey says Friends of Maungawhau have run numerous political campaigns that have dramatically improved the mountain's health.
"We successfully campaigned for buses to be banned from the maunga and later for the maunga to be pedestrianised completely."
Beyond helping the environment, volunteering has had added benefits for Geoffrey.
"I find working outdoors therapeutic. I have also made a new set of friends and had the satisfaction of contributing to the community."
He says volunteering is a great way for young people to engage with environmental issues.
"It is a good learning opportunity, especially for those students studying environmental science. Please join us!"