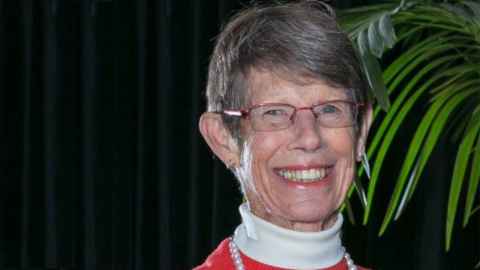 Having the chance to feel meaningful is the best part of volunteering for Jennie Oakley.
The University of Auckland alumna says that the benefits of volunteering are enormous not only for the club or organisation but also for the volunteer.
"I get back quadruple whatever I do emotionally and mentally. My life has been enriched enormously by the people I've met, the places I've been and the causes I've been involved with over the past few decades."
Jennie says she has never regretted putting her hand up when a volunteer is required. Whether it's helping at the Auckland Museum, making supper for the Auckland Philharmonia Orchestra, doing meals on wheels or driving patients to their appointments, she considers the experience to be a "gift".
"I always go to bed with a smile on my face. It might be a tired smile some nights, but I know I'm blessed."
Volunteering gives me so much: the joy of making a difference, meeting people and learning something new.
One of Jennie's favourite volunteering activities is hosting University of Auckland international students for dinner. It is usually the first time the students have been inside a Kiwi home and the impact can be profound.
Jennie says these evenings have often resulted in long-lasting friendships. She fondly remembers one student introducing her to their parents as their "New Zealand mum."
She enjoys being able to learn about the students' cultures while introducing them to New Zealand.
"They all have incredibly interesting stories to tell and share.
"Learning about the students' home countries, cultures, hopes and dreams while answering some of their questions about our heritage and customs is stimulating and fun."
Knowing how worthwhile volunteering can be, Jennie encourages everyone to get involved. She says there are many people, clubs and organisations that need assistance.
"Don't hesitate. Everyone can do it. There are so many opportunities to help, from making scones to helping a new immigrant to find some clothes."