A mission to feed Auckland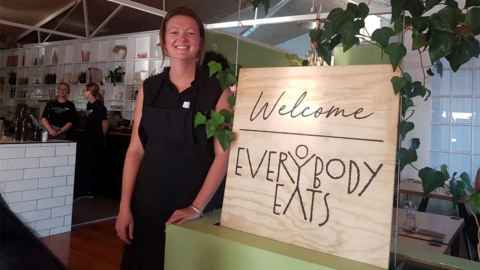 Molly Freeman is on a mission to feed Auckland.
She recently started volunteering for Everybody Eats, an "awesome" initiative that aims to reduce food waste and food poverty in New Zealand. The organisation serves three-course restaurant quality meals from perfectly good food that would otherwise be destined for landfill.
The University of Auckland staff member loves how Everybody Eats addresses multiple challenges.
"I think it's a great cause because it focuses on solving different issues at once. As well as reducing food waste and poverty, it focuses on bringing people together and creating a sense of community.
"It's a great way to make a difference close to home."
At Everybody Eats, diners are free to enjoy the food no matter what their means may be.
"Everybody Eats follows a 'pay as you feel' model so you can pay whatever you like, from large donations to nothing at all."
Molly says some of the diners would not normally have a community to eat with or be able to afford a meal, let alone a restaurant experience. One of the most rewarding things about volunteering at Everybody Eats is hearing everyone say thank you at the end of the night.
Molly also enjoys being able to connect with people from all walks of life.
"You get to meet a great bunch of people doing it."
Serving front-of-house is Molly's first ever volunteer gig. She was inspired to get involved by her sister, who has a history of volunteering.
Molly says it is possible to balance volunteering with full-time work. She signs up for shifts on a week-by-week basis and says even contributing for one night helps.
"It's a few hours of your own time to hopefully make someone else's day or week better. Just talking and listening to people can have a big impact."
Everybody Eats is always looking for new volunteers and diners.