Senior writer, TV host - The Spinoff.
Asked how she reacted when told of her inclusion in this year's 40 Under 40 list, Alex Casey says she "...kind of snorted in disbelief, but I was also incredibly flattered."
It's been a stellar rise for the self-confessed pop culture and movie buff, writer and TV host who still can't quite believe she gets paid to do something she absolutely loves.
Described by one media writer recently as "...having built a reputation for her sharp feminist take on pop culture, from reality television to current affairs, shooting pointed one-liners into the heart of the patriarchy" it's a role she clearly relishes and enjoys putting her own stamp on.
But we're getting ahead of ourselves.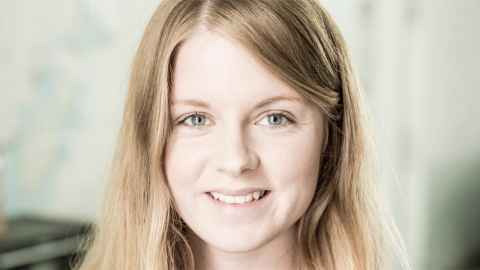 As a student at Auckland Girls Grammar, Alex says she achieved her dream job early in life as a media prefect which was to prove an obvious clue as to the direction her future career might take.
"I've always enjoyed journaling, writing, film and television and thinking about questions such as why woman are never allowed to time travel. While I enjoyed media studies at school I kept telling myself that there was no way that I would be able to do it as a job and get paid for it. In fact, I kept waiting for something else to kick in. But it never did."
So it was off to uni to do a Bachelor of Arts in Film, Television & Media Studies as well as some sociology along the way and things quickly fell into place, though there was still that niggling doubt: would there be a job waiting after graduation?
"It was when I discovered Sociology in my second year – and fused it with my love of film and television – that my entire way of seeing the world and digesting popular culture changed. I also loved the way that studying film and television didn't discriminate towards "low" culture. Whether it was Ratatouille or Battleship Potemkin, it was all important.
And a personal university highlight: Getting an A+ for an essay about Katy Perry's documentary. Alex says it was probably her proudest moment as a student. 
Admitting to regularly going off topic and pushing the boundaries of academic acceptability in her classes, time at university prepared the young writer well for her current role at The Spinoff where she was also one of the online media website's first employees. It's a place she describes as "a ragtag group from all walks of life." Basically The Avengers, but more hoodies.
Getting to write YouTube sensation Jamie Curry's book has been a recent career highlight as well as being invited to co-host Three's The Spinoff TV series.
"I always dreamed of being paid to write and tear apart popular culture, but I never thought for a second that a job like this actually existed. I also never ever, ever thought I'd be on television. I sometimes wake up thinking there's got to have been some mistake along the way."
And there's plenty on the 'Still To Be Achieved' list for the future.
"I'd like to keep trying new ways of writing and not getting too stuck in my ways. Maybe a book. Maybe a screenplay. Maybe some sort of promotional pamphlet. Graffiti ? The possibilities are endless."
So after digesting all that pop culture and movie content and reflecting on her career to date, what's been the biggest learning along the way?
"Things don't always go to plan. But if you follow what you love and what gives you sweaty palms then that can't be a bad place to start."