Alex Kendall is a research fellow at the University of Cambridge and the co-founder and CEO of tech start-up Wayve, the first company to test self-driving vehicles in central London.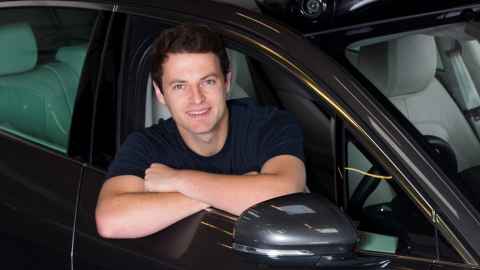 After graduating with honours from engineering school, Alex completed his PhD in deep learning, computer vision and robotics at Cambridge and worked on drone algorithms at California start-up Skydio. Wayve has since attracted $65 million in investment and Alex was featured on the Forbes 2020 30 Under 30 list.
Self-driving vehicles are "the space race of my generation", says Alex Kendall, "and will completely change society". They're certainly one of the great technical challenges of the age and Alex is at the forefront of what could become a robotic revolution.
Alex and the team at Wayve are pioneering a new approach to autonomous vehicle systems called end-to-end learning. Instead of a rules-based approach that becomes increasingly more complex, "end-to-end machine learning allows the algorithm to learn the entire problem from input to output," says Alex. "It is the most flexible and powerful tool we have to overcome insanely challenging problems with large amounts of data, such as self-driving cars."
You can see the cars "learning" how to drive on the Wayve website; it's like a child copying a parent. The vehicle "learns to drive with computer vision by both observing human driving and by using reinforcement learning."
Alex also believes that this approach is a historic milestone because "it is the first time we are giving robots a physical interface to interact with us. There are prolific examples of artificial intelligence interacting with society through software – newsfeeds, dating apps and e-commerce, for example – but with self-driving cars, we will see the first physical interface between humans and machines.
"It's an approach that will power the robots of the future, everything from cars to planes to ships to domestic robots or warehouse robots."
Alex has been on the fast track since he went into the second year of mechatronics engineering from high school. His current career is a reflection of his childhood in Christchurch with an engineer dad and a small business-owning mum. His family is "one to chase excellence", he says, and were inspirational and supportive.
"I feel very fortunate to have the confidence to be a tall poppy and live a unique life because of my family."
As a kid, he designed a solar heating roof system with his dad, built tree huts, and made video games and Lego stop-motion movies. He loved learning and "pushing my comfort zone" and gave everything, from debating to music, a go.
It's a quality that served him well at university, where he was an RA at O'Rorke Hall and on the executive committee of the Engineering Society for three years. A keen hockey player, he represented the university for four years and now plays for a London club.
Alex says he grew as a leader at university and it was where he made friends and memories, not to mention being challenged academically and the lasting effect of "first principles knowledge across engineering".
"I was able to surround myself with exceptional people who could teach me so much."
Alex's future, for now, is in autonomous vehicles and the challenges of driving in one of the most complex urban environments in the world: London. But Wayve doesn't plan to stop there.
"It is important this technology is scalable, so everyone everywhere can benefit," says Alex. "We aim to be the first to deploy our technology in a hundred cities.
"The ability to move is so central to our happiness, and self-driving cars will make this safe, sustainable, accessible and efficient."