Anand Chordia is the Director - Technology & Innovation - of Suhana Spices, a leading food processing company based in India, offering traditional food products in global markets. He is also at the forefront of green initiatives in his country and is the Founder of The Eco Factory Foundation (TEFF), which works on Sustainability, the Circular Economy and Sustainable Farming in Rural and Urban areas. In a short period since its establishment, TEFF has won several accolades for its impactful work.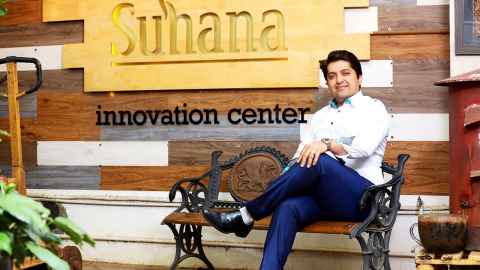 "Be the change you want to see in the world."'
This is something entrepreneur and philanthropist Anand Chordia believes in and abides by.
Anand took his family's traditional spices and pickles business in Pune, India and inculcating it with the essence of innovation and technology, has built it up so that it has launched over 150 products in an array of categories such as health foods, instant foods and convenient spice mixes. Suhana now has a prominent place not only in India but also across the globe.
Suhana Warehouse - Anand's first green field project is IGBC (Indian Green Building Council) recognised, and a platinum-rated green building that has won many awards as the best warehouse of India.
In 2016 Anand created The Eco Factory Foundation (TEFF), a non-profit organisation working on providing sustainable solutions to rural and urban India. Many industries and individuals have been following the principles of "Sustainability through a Circular Economy", TEFF espouses.
"Lead by example is what we believe in and so we aspire to create a paradigm through our industry to showcase how sustainability, social responsibility and how business can be done together most efficiently," Anand says.
More than 10,000 citizens, students, farmers, corporates have visited, trained and benefited directly or indirectly through the initiatives of TEFF so far.
TEFF has also established India's first Waste Management Park.

This mainly focuses on spreading awareness on the importance of reducing, reusing, recycling, and up-cycling waste. The team met a number of scientists and did a lot of research before setting up the park. The park was built to provide information on an eco-friendly and sustainable lifestyle to both the rural and urban sectors.

Anand studied Botany at Fergusson College in Pune and then in 2001-2002 he came to New Zealand and completed a postgraduate degree in Food Science at the University of Auckland. He says that studying at the University was one of the most wonderful times of his life that helped him gain different insights into food processing and gave him holistic ideas about the way food needs to be looked at.
"The learnings at the university have succored my understanding about how science influences food and life and largely that a scientific approach is vital for success of a company."
After completing his Food Science degree, Anand returned home and joined his family business.
"The thought of doing something in a truly sustainable way was always at the back of my mind."
"I believe 'Science and Creativity' are amongst the important aspects for the success of an enterprise and to bring positive impact on people, and we intend to work on this with persistence", says Anand
Anand's grandfather has been his biggest inspiration for his dedication, hard work and purity in work. He has found inspiration and enlightenment from many people, books and places. He cites Mahatma Gandhi and Japanese farmer and philosopher Masanobu Fukuoka as key public figures that have influenced him. Anand says one of the biggest things he believes in "is to always fall forward and keep working with good purpose.
"If Intentions are clear, and consciousness is pure - the entire cosmos will work for you, sometimes you can see it, sometimes you cannot."
Perhaps this sums up this green warrior's raison d'etre better than anything.