Angus Muir is lighting up the dark corners of the public's imagination. His award-winning design studio illuminates spaces in New Zealand and overseas with mesmerising art installations made from light.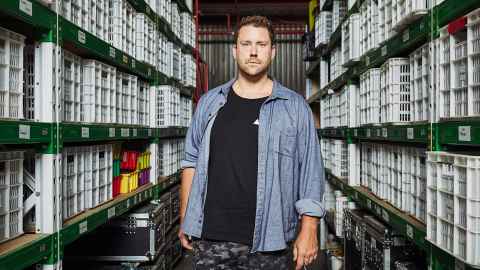 Angus Muir deserves to be in the spotlight. As one of New Zealand's most sought-after light artists, he transforms outdoor spaces with spectacular works often made from thousands of LED lights.
His award-winning studio, Angus Muir Design, is behind many of the stunning light "experiences" that popup around our cities.
Some of his better-known works are the majestic Mountain of Light last seen at Queenstown's LUMA Southern Lights festival; or his interactive, cosmic green UV Spaghetti, one of his most photographed pieces.
Angus comes from a background in creative design and holds a Master of Architecture (Professional) degree. As a result, he has a unique approach to his installations. Rather than creating sculptures or one-off art works, his focus is on creating entire events that completely transform spaces into interactive, magical experiences.
"I really enjoyed the spatial design side of studying architecture, but not so much the housing side. What I find interesting is the spaces between the buildings, the temporary elements, and designing places that can go up and down quickly and completely change a space. It's still architecture, it just doesn't have a roof over the top."
Angus curated the spectacular Bright Lights event in Auckland viaduct, a lighting trail inspired by the theme of clean seas and sustainability, and is a main contributor to the Auckland City Lights festival and the Queen Street Christmas lights.
Prior to the pandemic he contributed to festivals in nine different countries - the Moscow Light Festival and Vivid in Sydney two of his highlights, as well as festivals in Amsterdam and Israel.
"The logistics of creating light installations overseas is kind of mind-blowing," Angus says. "We often have dozens of people working on an installation from fabricators and electricians, to arborists, truck drivers, and on-site specialists."
Light artistry is a growing field as technology allows more complex and breathtaking installations to be achieved. Despite event restrictions, Angus says Covid hasn't slowed down demand with requests constantly flooding into his studio, particularly from abroad.
"The only challenge is not being able to travel overseas with our installations. That makes me nervous."
Angus Muir Design operates from an expansive 1,000 square-metre warehouse with every kind of light imaginable to hand. Like a well-oiled machine, each installation can be created and disassembled on the factory floor. Each part can be reused again and again.
He employs four full-time staff and his team can expand to include dozens of specialist contractors depending on the complexity of the installation.
"We are pretty much a one-stop shop for staging light-themed events. It gives us a lot of freedom to do things that are different whereas a lot of artists might be able to come up with something creative but not know how to make it. We can make almost anything we dream up.
"I love creating fantastical sculptures that use simple geometry like circles and squares.
I like the pieces to be accessible, big, beautiful and joyful, and that can inspire anyone - from a kid to an elderly person, any race, any religion. It's about creating fun for people and in the last few years, that's what people need in their lives. I'm pretty lucky to do what I do."