Researcher and Coordinator, All-Party Parliamentary Group on LGBT+ Rights, UK Parliament.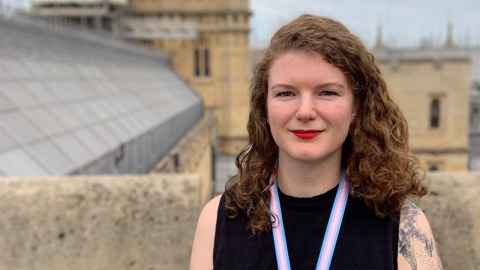 For some students high school can be an isolating experience - particularly if you don't quite conform.   It's the first time in your life you begin to realise that society has certain expectations about the way you are supposed to show up and "fit in."
For Anna Robinson, high school would be the start of a journey that is still a "work in progress."
As a self-described "extremely nerdy" student who loved history, debating and being involved in social justice issues, Anna had no idea what her future career might look.   She arrived at the backstop of choice often selected by those in a similar situation - taking Law.
"I started out doing a Law degree with vague thoughts of perhaps becoming a human rights lawyer, but taking a break from my LLB to complete an exchange year at McGill University in Canada, I found that I didn't miss law at all.  Upon my return, I switched instead to a Bachelor of Arts in History and English and never looked back."
Three history lecturers in particular were instrumental in helping Anna to nurture her growing interest in issues such as gender and sexuality.
"I will be forever grateful to Barry Reay, Deborah Montgomerie and Caroline Daley, wonderful historians who shared their enthusiasm for social and cultural history, especially our local history here in Aotearoa. They all contributed immensely to encouraging me to pursue my passion for history and cemented my belief in its importance as a genre."
Anna graduated with first class honours and spent a short time in Australia undertaking a summer scholarship project at the University of Queensland. That experience would prove to be the first in a whirlwind series of stints in seven different countries during the next 10 years.
Opting to continue her studies after securing a scholarship to complete a joint MA in Women's and Gender Studies from Utrecht University in the Netherlands and the Central European University in Hungary led to an opportunity to work for the European Roma Rights Centre in Budapest, a Roma-led international public interest law organisation working to combat anti-Romani racism and human rights abuses.
An exciting role followed as a policy adviser on foreign affairs and human rights to Swedish MEP Soraya Post, the first member of the European Parliament from an ideologically feminist political party. There she also became active in MeTooEP – a workers' movement created to raise public awareness of sexual harassment and abuse in the European Parliament.
Now a researcher and co-ordinator for the UK Parliament's All-Party Parliamentary Group (APPG) on Global LGBT+ Rights, Anna also co-chairs IGLYO (The International Lesbian, Gay, Bisexual, Transgender, Queer and Intersex Youth & Student Organisation), the largest LGBTQI youth and student network in the world, with almost 100 members in more than 40 countries.
"IGLYO builds the confidence, skills and experience of LGBTQI young people to become leaders within the LGBTQI and human rights sectors. Through cross-cultural exchange and peer learning, IGLYO also creates a powerful collective of youth activists across Europe and beyond, who can share strategies and visions and foster values of international solidarity. We make sure youth LGBTQI voices are heard and amplified at all levels of decision-making and we advocate for making schools safe, inclusive and supportive of LGBTQI learners."
Reflecting on a career Anna freely admits she never realised was possible during her time as an undergraduate, the future is an open book of possibilities.
"It still feels surreal sometimes to be working in Westminster at the UK Parliament, a place that you grow up seeing on television or as a tourist when visiting London. It's a huge privilege to do what I do advocating for the rights of LGBTQI people who are all too frequently marginalised by society, particularly those who are trans or intersex.  While we have made some progress in LGBTQI issues there is still so much more that needs to be done, and more solidarity that must be built. I don't see myself stopping this fight anytime soon."