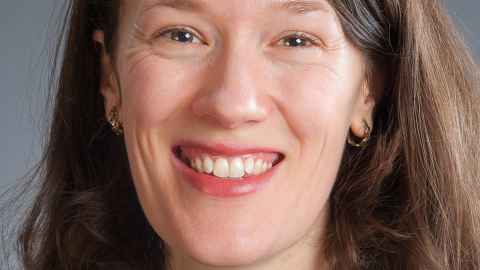 Leading poet and novelist Anna Smaill is committed to developing awareness of New Zealand literature both within this country and
internationally.
Her first collection, The Violinist in Spring was listed as one of the best books of 2006 by the NZ Listener while Anna's poems have been widely published in journals and magazines.
Her first novel The Chimes was longlisted for the Man Booker prize in 2015 and also won the 2016 World Fantasy Award. 
An avid reader from an early age, Anna says she grew up surrounded by books and would read whatever she got her hands on, from smuggled copies of Judy Blume to Virginia Woolf from her parents' bookshelf.
"I credit my parents for shaping my love of literature. They read to me, encouraged me to read and talked about books as if they were alive, present, and utterly vital."
A change in direction in her late teens was to determine a new pathway and being open to this change Anna credits as one of her biggest learnings to date.
"My biggest learning curve came at the age of 19 when I changed my academic focus from performance music to English and creative
writing. This taught me the value of uncertainty. Though painful at times, I realised that doubt, questioning and waiting were necessary and fertile states. This holds true for me still, in both academic and creative work."
It was a theme she referred to in a 2015 Graduation Speech reminding those present not to be afraid of "...living for a time without a story and with uncertainty."
After completing her undergraduate studies at the University of Canterbury, Anna went on to gain an MA in English Literature with First-Class Honours at Auckland as well as obtaining an MA in Creative Writing at Victoria before gaining her PhD at University College, University of London and later teaching at the University
of Hertfordshire.
Anna say her academic research seeks to place New Zealand poetry in an international context, via its relationship to both British and US poetic traditions, as well as in terms of its absorption of poststructuralism and avant-garde influences. 
"Often it's the slippery space around the personal voice that I explore in my research. Curnow wrote scathingly that the New Zealand poet 'disapproves, distrusts or despises the personal voice'. I'd argue that there's a seed of truth in that statement, even now. Yet, I don't think we should dismiss or despair of this ambivalence. Bill Manhire, for example, is a virtuoso of reserving judgement, of holding the definition of identity open. It's this that gives his poetry its brilliant flexibility. I'm intrigued by the precarious table-top dance of selfhood that so many New Zealand poets perform."
Currently lecturing in New Zealand Literature in the English
Programme at Victoria University of Wellington, Anna describes her experience at the University of Auckland as "a diverse and challenging academic environment," that has been crucial for her ongoing career. 
"It was responsible for getting me hooked on the energy and
pleasure of academic work, as well as deepening my sense of curiosity about the literature being written in this country. In particular I remember being exhilarated by an MA paper taught by Michele Leggott in the English Department. Not only did she revolutionise the way in which I thought about poetry, she offered a brilliant model of someone combining literary criticism with creative work."