After winning the 2017 Velocity $100k social category prize, Arash Tayebi set up Kara Technologies, a start-up that is focused on translating content into New Zealand Sign Language using a digital avatar. Arash studied engineering in his native Iran and then in Melbourne, before arriving in New Zealand in 2013 to study for his PhD. His own experience with increasing deafness has inspired him to make NZSL more widely available.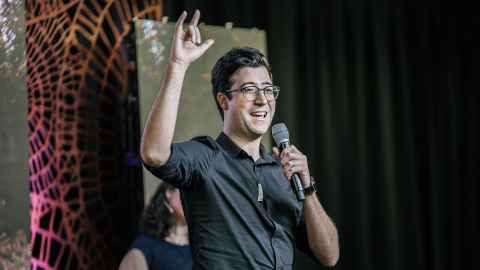 "We'd like to make sign language the norm for everything," says Arash Tayebi. "I personally believe banks should be available in sign language and our health system. Entertainment, education – that's very hard for a deaf person."
Have no fear, NZSL interpreters, Arash is not talking about replacing you with Kara Technologies' clever avatar Niki. In fact, he thinks there should be more human interpreters, but there are often availability issues and Arash sees Niki as a "complementary tool".
So far, the team at Kara have translated a number of children's books into NZSL, but there is no end to the applications for such technology. Arash says he's particularly interested in kids' cartoons, which are not very accessible for children who are still learning to read.
Kara also created a Covid-19 self-checker, admittedly using an actual human. "There are text emergency messages, but for the deaf community, English is a second language; imagine making those accessible in sign language."
The creation of a signing computer-generated character is not as easy as it sounds. Kara uses motion capture and the powerful Unreal Engine 3D game software to create Niki and while there have been companies overseas that have tried the same thing, they failed the mission.
"Sign language heavily relies on facial expression," says Arash, "and this was really missing from the other avatars, which were made for movies or kids' cartoons. Sign language is an independent and different language to English, it has its own grammar, culture and structure. 
"We try to include the deaf view and design and concepts, so that's why we have a sign language and deaf expert on our team and we work closely with deaf education centres. That's something I'm very, very proud of."
Kara Technologies is his greatest accomplishment so far, says Arash, and he credits the university for giving him the skills and confidence to take the leap into the business arena.
"The practical aspects, people, money, objectives and obstacles and how to overcome them – and how to be bold and work towards a goal, these are things I learned from the University of Auckland through different workshops and mentorship."
Arash is also grateful to the university for picking up that he has dyslexia, something that was not identified in Iran or Australia. 
"The university suggested they could help with the exams, but I was like, 'no, engineers don't do exams, it's all mathematics', but I really, really appreciated the university's offer."
Arash may have arrived in New Zealand thinking there would be sheep at the airport ("in my defence, Wikipedia says population four million, population of sheep, 32 million!"), but he has thrived since. He made friends through the Postgraduate Students Association and says his team at Kara are "fantastic, seriously".
He says there is strong sense of community in New Zealand ("even if you go to suburbia, there's a community for everything, which is fantastic!") and that Kara wants to take that concept of community to the world.
"This power of collaboration makes you feel safe, so we believe that something that is initiated in New Zealand out of Kara could be a global thing. We are working on New Zealand Sign Language, but we have plans for International Sign language, American Sign Language, sign language in African countries – why not?"