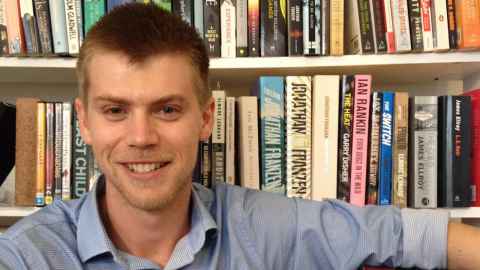 Bestselling crime writer Ben Sanders has already achieved his dream career and he hasn't even turned 30.
Yet his story is proof that gaining your degree in one particular field doesn't have to restrict you from exploring your talents in another.
Graduating in 2012 with a Bachelor of Engineering with First Class Honours, making the Dean's Honours List the previous year, Ben admits that while he was at school writing was always his real passion; even if he did hide it from his mates fearing it would result in the loss of some "cred."
"I've always had a really vivid imagination. Walking to and from school each day I would be developing stories in my head and when I got home in the afternoon I'd spend hours writing everything down I had pieced together during the day. Even as a teenager I set my sights early on becoming a writer."
Encouraged by his parents from an early age, they developed a clever approach to ensure TV and reading time was kept in balance. The rule was that for every hour of television Ben watched he had to do an hour of reading.
"I slogged through a lot of Enid Blyton in observance of this rule, and eventually I decided that books were all right. By the age of fourteen, I had decided to write a novel of my own."
Achieving that goal six years later at just 20, Ben admits it was Frederick Forsyth's bestseller The Day of the Jackal that was the first book that exposed him to crime writing.
"I was around 11 or 12 when I read The Day of the Jackal and it was a huge revelation for me. I didn't realise you could write about such things as crime and for the first time it exposed me to a whole new world of crime fiction and introduced me to authors such as Michael Connelly, Lee Child, Peter Dexter and James Ellroy."
Erring on the side of caution, knowing that becoming a full time writer was always going to be a long shot, Ben opted to pursue a career in engineering; though he did briefly consider doing law.
"I knew I had to have a back-up plan so I settled on engineering. The reason I decided not to do law or journalism in the end was my belief that I would end up doing so much writing as part of my job that I wouldn't feel inclined to do it in my leisure time."
His first three novels, The Fallen (2010), By Any Means (2011), and Only the Dead (2013), were all written while he was studying engineering and became New Zealand Fiction Bestsellers. Since then Ben has written a further two books American Blood (2015) and Marshall's Law (2017) with the film rights to American Blood being optioned to Warner Brothers. His books are now published in 11 counties including the U.S., Australia, Russia and the Czech Republic.
Today Ben has the best of best of both worlds. He works part time as an engineer two days a week and is a writer for the other three.
He says the blend works well and forces him to get out of the house.
"I enjoy being able to design a few beams or solve some other engineering problem I'm working on as a way of giving me some time away from writing. I find switching between the two relatively easily and it allows me to work both sides of my brain evenly."