Boopsie Maran is meeting Auckland's car culture head on by advocating for Auckland's public spaces to be more pedestrian friendly, more liveable, and more fun. Born and raised in California to Filipino and Czech migrant parents, she places a high value on celebrating community spirit and is passionate about integrating te reo Māori and the arts into our everyday lives.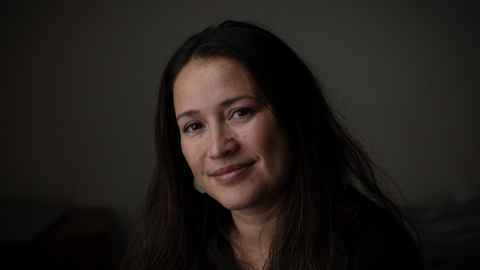 Boopsie Maran is a 'placemaker' and founder of place strategy consultancy Places for Good. To explain what she does, she recalls one of her favourite projects, which she recently worked on with Auckland Transport and Place Creative.
"I walked down Karangahape Road every Friday for nearly two years, just observing how pedestrians, cyclists and cars behave and how we could make it better. It was a fantastic opportunity to really engage and support all the users of our streets and take the time to design for all people."
Boopsie is part of the placemaking movement, which is about strategising diverse new ways to solve some of our streetscape problems.
"Placemaking is about designing cities for all walks of life, rather than focusing on cars, and the design process involves observing space and talking to the people who live, work, and play there."
Boopsie – a name given to her by her Filipino grandfather – attempts to push the boundaries of conventional urban strategy. Her Places for Good projects include holistic place strategising with firms in Australia and with Auckland Transport to support pedestrians to find the hidden cut-throughs of city centres. Her projects also place emphasis on the power of local and historical storytelling.
"Everyone deserves to live in a community that has a strong sense of whanaungatanga (belonging) and manaakitanga (hospitality). My job is to support local neighbourhoods, schools, and communities to create public spaces that celebrate their ideas and values, and that bring joy to our everyday lives, whether that space is a park or the route we walk every day to school or work."
Boopsie's path to becoming a placemaker has also been unconventional. Originally from California, she studied History at UC Berkeley and migrated to New Zealand in 2005. Both her daughters are enrolled in the bilingual language primary Te Whānau Awahou o Te Uru Karaka based on kaupapa Māori principles.
She holds a Masters of Teaching Primary from the University of Auckland, which she says prepared her better for placemaking than, say, architecture or urban design. Boopsie was behind the colourful 'pencils' mural on the Epsom Campus, her first act of placemaking, which also served as a vital learning experience.
"It taught me what is needed to successfully complete a collaborative public art piece on university property, which is very parallel to how Auckland Council operates."
 
Understanding the difficulty of making change in a neighbourhood design means Boopsie volunteers a lot of her time to helping others navigate council processes.
"It can take five years to work through bureaucracy to get a pedestrian crossing, it's not an easy thing to do alone."
She is particularly proud of her work with schools improving safety for student commutes, while creating 'parklets' is her favourite act of placemaking.
Parklets are a sort of grassroots reclaiming of public spaces. Boopsie will take over a couple of parking spaces and set up seating, games and engaging activities to reclaim car storage for people.
"They work better if I don't have formal permission. If it's full of laughing smiling people, no-one complains about you enjoying the space."
Alongside her placemaking Boopsie is enthusiastic about incorporating te reo and the arts into everyday learning.
She guest lectures to education students on the benefits and importance of bringing a strong sense of Mātauranga Māori to your mahi (work).
She credits University of Auckland taonga (treasures): her kapa haka teacher Vikki Demant, Dr Elizabeth Anderson and David Clapcott in the Faculty of Education as inspirations.
"I am only able to share my sincere love of te reo and the arts through my work because of what these passionate and dedicated teachers shared with me."