Carl is an international humanitarian and development assistance professional. He has worked with the Tearfund in the Pacific Islands and South Asia, played a lead role with Swiss-based international humanitarian aid agency Medair in Nepal and worked with impoverished Rohingya refugees in Bangladesh. He has recently been appointed programme director of the New Zealand-based Tearfund.
A school trip to Cambodia as a Year 12 student at Auckland's Rangitoto College gave Carl Adams his first insight into his future career.
The trip was organised as part of a cultural exposure programme, which involved the students learning about the country, its history of conflict and genocide, and the support that was being raised for several community-based organisations.
"Growing up I was always intensely curious about the world," says Carl. "I asked the 'why' question probably a bit too incessantly for my parents' and teachers' liking."
Starting out with the idea of completing a law degree specialising in international law, Carl says his focus at university quickly shifted to politics and history allowing him to explore more of the "why" questions while studying international relations.
After completing a one-year exchange programme in Canada, concentrating on history and politics of the global south, Carl returned home to begin his Master in International Development.
"My thesis focused on the experiences of communities affected by severe flooding in the Solomon Islands in 2014. Through my field research I gained unique insights into how the disaster was experienced by different groups of people, how they responded and how they had managed their recovery."
Carl says learning to think critically and to see the world from different perspectives are two of many skills that he gained from his time at the University of Auckland.
"I also became a lot more disciplined – from the student who would submit assignments at 11.59 pm hoping that the internet wouldn't cut out, to submitting my master's thesis early"
He was fortunate too, to gain part-time employment with the Tearfund while studying and on graduation was selected for a role with the New Zealand-based aid and development organisation working with local partner organisations in the Pacific Islands and South Asia.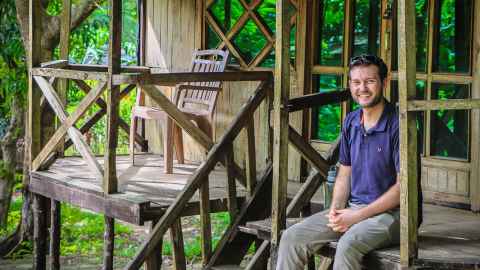 "I embraced the opportunity to work cross-culturally and as a connector of people with different experiences and ideas for the improvement of their communities."
He then joined the Swiss-based Medair and was deployed to Nepal in 2017 following the devastating earthquakes that hit the country. He soon found himself appointed country manager, despite being just 26.
The challenge of managing people often twice his age involved many different dynamics and skill sets which he had to "quickly learn" but coming from the home of Sir Ed Hillary and knowing how cricket is played gave him a certain "cachet factor".
"My work was really dynamic, which I loved – at the same time, it is challenging to plan and work strategically in a context that is very fluid and fast evolving."
After two years spanning emergency response and recovery in Nepal and Indonesia, Carl found himself based at one of the world's largest refugee camps in Bangladesh. It was "home" to more than 1 million impoverished Rohingya refugees who had fled religious persecution in neighbouring Myanmar. It was a confronting scene.
"While I was there I was helping to run two health clinics, construct basic shelters as well as provide emergency nutrition. Many of the children living in the camps suffer from malnutrition due to their living situation - the work is almost overwhelming at times."
Now, there's Covid-19 to deal with on top of everything else which only adds to the despair of those forced to endure these conditions.
Shortly bound for home to take up a new role as Programmes Director for his former employer Tearfund, Carl is ready for the change.
"I'm very keen to further my studies. Perhaps an MBA or post-grad study focused on law and diplomacy - I haven't decided as yet but developing my management skills is something I definitely want to pursue."