Cat Ruka (Ngāpuhi, Waitaha) is the first Māori woman to be the executive director of Auckland's Basement Theatre. Cat has worked as a choreographer, educator, artist mentor and as artistic director of Tempo Dance Festival. She is also co-founder of Heart Party – an equity-minded, community-focused online clothing store whose sole purpose is to generate funds that can be donated directly to artists working in live performance in Aotearoa.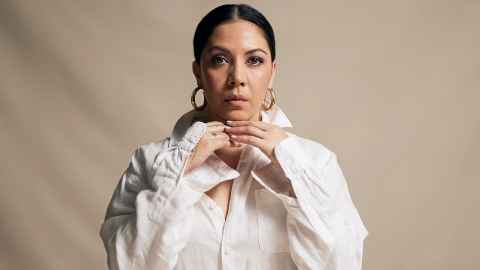 Ask Cat Ruka what she has learnt about leadership in her 15 year career and she says: "I have learnt that your mana as a leader rests on your ability to incite mana in others.  That the way that you make people feel becomes your reputation. That being people-centred and being a strong relationship-builder is the business model for our future."
Cat is one of Aotearoa's upcoming Arts educators and leaders. As well as the Basement role and Heart Party, she is Chair of Her festival launching in 2022. A multifaceted festival for all who identify as women to connect, create and celebrate.
Cat grew up in Warkworth and says her father Raureti Ruka-Korako, whose marae is in the Hokianga, was a very important influence.
"Dad worked in the performing arts across music, film and television. He and I had a very close relationship and he instilled in me the value of living an expressive and poetic life, and to be really unapologetic as a creative being. He fostered a mana and strength in me; showed me how to not be afraid of my full potential; but also role-modelled how to be humble to others and to the greater kaupapa along the way.
"I always say that our relationship was a portal into the power of indigenous creativity and excellence."
Cat studied dance at the University of Auckland graduating with a master's degree from the dance studies programme in Creative and Performing Arts. Her thesis was titled Choreographing Self-Determination for Indigenous Women.
"I think one of the key things that I learnt to do at uni is identify what the next trend, or wave of thought, or zeitgeist moment, is going to be in society before it happens, which is a skill I developed through doing deep research into how cultures and societies function.
"Because I have learnt how to exercise this muscle, I am able to make quite solid, future-focused business decisions that are innovative and also set the next generation up really well."
An award-winning choreographer, Cat toured her own solo performances nationally and internationally and then spent 10 years as the Performing Arts Programme Leader at MIT's Faculty of Creative Arts and worked as a mentor at Ngā Rangatahi Toa, a creative youth organisation.      
Becoming Artistic Director of Tempo Dance Festival, was a turning point as Cat developed strong views on equity and diversity and how to create space for wider representation.
 
"What Pākehā-led arts organisations have been doing for a long time now is what I call 'decorational' or 'performative' diversity. Essentially, what that involves is decorating the public face of an organisation with People of Colour activity, whilst still maintaining a very colonial core and way of leading and operating."
Today Ruka says she knows how to lead through uncomfortable pieces of mahi from "a place of love and nourishment", and in a way that uplifts rather than undermines the mana of everyone in the room.
"We know how to do this because  we have thousands of years' worth of ancestral knowledge around how to hold space for difference.
"Our tūpuna taught us how to incite the mana of everyone, and not just those who look like us and think like us. In fact, manaaki [hospitality] is the very act of putting the manuhiri's needs before your own, because we come into our own mana through serving the mana of others."