Chandni Sahrawat is the founding director and operations manager of two prominent New Zealand-owned restaurants, both based in Auckland's CBD. She is an outspoken advocate for better inclusion of migrants in the New Zealand labour force. Earlier this year she helped raise $7500 for Bhartiya Samaj Charitable Trust in Auckland to help buy oxygen concentrators for Covid-19 patients in India.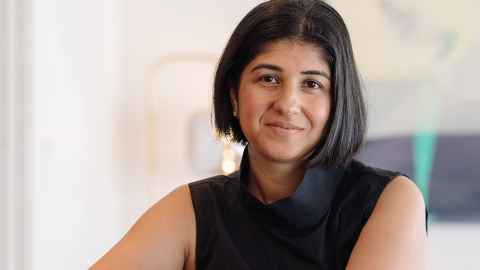 When Chandni Sahrawat was growing up in Pune, a large city two hours from Mumbai, her nickname was "tourist guide for the city".
Even as a young girl she was always keen to eat out and take visitors to the best foodie hot spots.
In her teens her mother suggested she go to culinary school and both her parents often joked she would marry a chef – a family joke that would later turn out to be a self-fulfilling prophesy.
Today Chandni is a major influencer in the Auckland food scene working with her husband, chef Sid Sahrawat, whom she met in Auckland in 2003.
Chandni plays a pivotal role in running Cassia restaurant in the city and the iconic French Café, which has been reinvented as Sid at The French Café. She also helped launch Cassia's At Home sauce range last year and spent more than a decade as co-owner/founder of the much-lauded fine dining restaurant Sidart, the couple's first restaurant, which they sold in September 2021.
While Sid manages the kitchens, Chandni runs all facets of operations across the restaurants from marketing to admin to HR, payroll, banking, restaurant interior updates, uniforms and the myriad of day-to-day tasks associated with running restaurants.
Social enterprise is embedded in the culture of the Sahrawat's businesses: the restaurants work with charities including the annual DineAid appeal and have supported fundraising efforts for Auckland's Starship Children's Hospital In 2019 Chandni helped raise over $120,000 for Victim Support by organising a charity luncheon at Sid at The French Café.
Chandni believes everyone has the potential for success – they just need to find what their passion is to unlock it.
"I was not a high achiever in my younger years in India," she says. "I often failed academically and a key person who took interest in me was my school's principal Sister Monica. She would call me up every night before a high stakes assessment, coach me and make me believe that I had the potential to succeed."
Chandni experienced sexual abuse as a child in India. In 2002, aged 17, she moved to New Zealand so as 'to not have to see my abusers walk freely in the community". As an international student at the University of Auckland she accessed counselling services and says that, plus the support of Sister Monica, gave her the courage to "take back my power in life".
Chandni now holds three degrees: a Bachelor of Arts in Psychology and English and a Graduate Diploma in Teaching, both from the University of Auckland, a Post Graduate Diploma in Education and Guidance Counselling from Massey University.
"The skills I have learned from both my bachelors and my graduate diploma have helped me and continue to help me each day. The interpersonal skills help me be a good operations manager and the teaching skills help me every day to motivate and manage a team of 50 staff."
Looking to the future Chandni says she wants to effect change in the New Zealand hospitality Industry such as living wages for all, fair sharing of tips, making it more inclusive for women especially for the kitchen roles and eliminating migrant exploitation.
Chandni will continue to lobby for migrant rights and says she would also love to do some personal charity work "combining my skills and passion to work with victims of sexual abuse, especially women and children."