For someone who never intended pursuing a career in politics and describes herself as "shy and introverted", Auckland mayoral aspirant Chlöe Swarbrick looked remarkably composed and confident during last year's election campaign.
As a 23 year old journalist finishing a law degree and juggling a number of small business ventures in late 2015, she says a career in politics had never been on her radar. At school she had always wanted to be a writer but that all changed after interviewing the leading contenders for the Auckland mayoralty on her former bFM radio show and coming away disillusioned with all of them.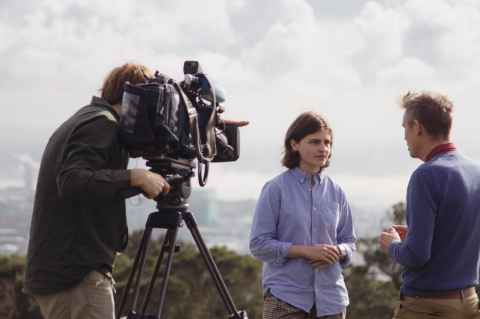 Surprising everyone, including herself, by polling almost 30,000 votes on an almost zero advertising budget, she says she went into the election with no expectations given the well-funded campaigns she was up against.
It's hardly a surprising outcome for someone who has always been driven and not afraid to take a risk. Completing a BA/LLB degree in just four and half years, taking five papers a semester in her final year and undertaking summer school each year of her studies, she says she didn't see the point in taking on debt for longer than was necessary.
"Student life is not exactly a comfortable lifestyle financially these days so for me I was very focused on completing my studies as quickly as possible and as a result I didn't really participate in student life that much outside of classes."
Starting her first business with her partner in men's fashion when she was 18 using $10,000 in capital saved from working part-time in retail, Chlöe says the experience taught her that anything is possible with the right mindset.
"I learned that our generation can do anything with confidence and Google. There are a lot of assumptions about what is deemed to be life experience. For me it's about flexibility and critical mindedness."
Becoming a List MP for the Green Party in the 2017 general election, despite earlier ruling out a political career in central government, she says the change of heart came after seeing the impact of her Mayoral campaign and a determination not to let down her loyal supporters.
"I've never aspired to be a politician but I did garner a lot of support in the mayoral campaign and I didn't want to throw that away. In the end you have to be involved in the system to affect change because too many people these days feel disconnected from the political process."
It was during her time studying philosophy as part of her degree that she found a subject that resonated strongly with her personal belief about the importance of standing up for what she believed in and advocating for those neglected by the status quo.
"As a kid, my dad fostered my interest and research into 'why' things are, which led me years later down the path of studying philosophy. During my time at university Khylee Quince's guidance through my Advanced Criminal Law studies had a lasting impression on my desire to connect the dots and make things better for people."
Chlöe Swarbrick looks set to be part of a new political force – the rise of disenchanted millennials seeking to make their voices heard.