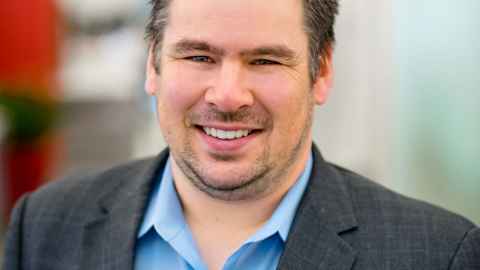 Growing up in semi-rural Kumeu where he attended Kaipara College, Chris Heaslip never anticipated his Christian faith would be the catalyst for co-founding a tech start-up business which these days is growing as fast as high profile online accounting software company Xero.Sitting in church one day with co-founder Eliot Crowther and feeling that discomfort when you want to make a donation but you don't have cash on you, they both knew there had to be a more modern solution to a problem many faith based organisations face in an increasingly cashless society.
Chris envisioned an integrated, consumer friendly, cloud-based, mobile commerce solution which would allow church goers to give money as easily as buying a song on iTunes. This would simultaneously provide a platform for increased revenue, while also simplifying business processes and reducing costs.
Mortgaging his house and pouring every cent he had at the time into the fledgling business, it very nearly all turned in on itself in late 2013 when the company's coffers literally ran dry.
Chris says it was easily the worst day in his life when he had to tell the eight staff the business employed at the time that the company was unable to make payroll.
They all stayed anyway and the episode marked a dramatic turning point in the company's fortunes after additional investment was secured a few weeks later and the rest, as they say, is history.
Completing a Master of Commerce (Taxation) with honours, Chris's career path has included time as CEO of an accounting and tax consultancy, a tax management professional and business adviser at KPMG and also a tax investigator at Inland Revenue.
"The University of Auckland was invaluable in setting key foundations for my career. The training and investment it makes in its students is truly world class. To take those learnings and apply them in an entrepreneurial setting has allowed me to be two steps ahead of others." These days Chris lives with his family in Seattle chasing the next big opportunity for Pushpay; to scale the business in a country where 37 percent of the population attends church on a weekly basis.
To put that in perspective, there are more than 300,000 churches in the United States with an average of more than 500 attendees each. Pushpay supplies its technology to only 7,128 of those churches (roughly 2 per cent) at present, suggesting plenty of scope for significant growth in the future.
Reflecting on his biggest learning to date, Chris says there is no one silver bullet to success.
"I have found the skills that have helped me most have been determination, hard work and the willingness to learn and adapt. At Pushpay, we have an emphasis on our people, product and processes and these three aspects are not mutually exclusive; one cannot work without the other. For example, you could have the best product in the world, but without the right people to sell it, it is worthless."