Manager Advocacy - Barnardos.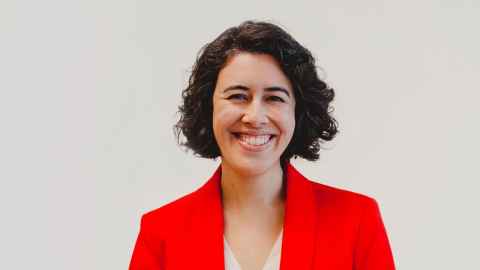 From an early age issues such as the Civil Rights movement in the U.S. and the plight of refugees always resonated with Claire Achmad.
Even as a young child of Indonesian and New Zealand descent she was drawn to advocate for those whose rights were not being recognised, particularly children, and felt an underlying calling to be an agent for change.
"I was one of those kids with a very strong sense of social justice and social conscience. The 40 Hour Famine was an activity that really resonated with me, because it was a way that even as a child myself I could do something that might make even a small bit of difference for other children in different countries who were living in poverty."
Appointed as Head Girl in her final year at Avondale College, Claire says the impact of grinding poverty on many students in West Auckland had a profound impact on her and led to her involvement in initiatives to foster community spirit and wellbeing.
"It gave me the chance to help create a community that was more connected and where young people had spaces to be themselves. It also made me realise the passion I had for building a world where human rights flourish and really signalled to me where my future career pathway lay."
Enrolling in a Bachelor of Laws and Bachelor of Arts majoring in political studies, and admitted to the bar in 2007, Claire was later named the recipient of the CLANZ-Bell Gully Young Corporate Lawyer of the Year.
An opportunity to immerse in human rights law came in the form of a Rotary Global Grant Scholarship to study at Leiden University in The Netherlands, one of Europe's leading international research universities. Completing her Master of Laws (cum laude) in Advanced Studies in Public International Law, specialising in Peace, Justice and Development, Claire says by the end of the programme she knew she had found her true calling.
"Being able to study at an institution that was so closely located to some of the world's leading institutions in The Hague, including the International Court of Justice, and the United Nations in Geneva, was an incredible experience and allowed me to really delve into issues I wanted to understand more about, particularly the rights of children."
The experience certainly fed an intellectual curiosity to find out more which lead to the decision to undertake a doctorate through Leiden's Child Law Department, recognised as an international centre of excellence in children's rights law and practice.
In 2018, Claire successfully defended her doctorate at Leiden University, with her thesis entitled "Children's Rights in International Commercial Surrogacy: Exploring the Challenges from a Child Rights, Public International Law Perspective." The doctoral study is the first of its kind to take a comprehensive child rights approach concerning a context rapidly developing at the frontiers of global human reproductive technology and social change.
While working as a solicitor in the National Legal Services of the Ministry of Social Development, Claire worked pro bono as a solicitor at the Wellington Community Law Centre (Refugee and Immigration Legal Advice Service). This was valuable experience helping inform her work with UNICEF Nederland, where she took up an opportunity to join the Child Rights and Advocacy Team from 2010 to 2011. Leading work on the rights of unaccompanied minor asylum seekers in the Netherlands and Europe and advocating for the disestablishment of Dutch and European policies of forced return of separated children to countries of origin, Claire's work ultimately helped contribute to the eventual discontinuation of these policies.
Returning to NZ in 2012 and roles at the Human Rights Commission as a Senior Advisor and World Vision Australia would eventually lead to her current role at Barnardos in 2017, one of the world's oldest children's charities, where she is a member of the organisation's executive leadership team.
"We focus on three main areas including child and family social services, early learning, and advocacy for the rights and wellbeing of children. I lead advocacy for Barnardos, and we undertake evidence-based, solutions-focused advocacy, which involves focusing on the most pressing issues for children, including sadly, child abuse, family violence, child poverty and youth suicide."
Reflecting on her career to date, there's an element of surprise at what she's achieved.
"I don't think I could have ever envisaged the range of different experiences and opportunities I've been so fortunate to have had. And even though I've always loved learning, I would never have thought I would eventually complete studies to doctoral level, so that has certainly been unexpected and has definitely challenged me in new ways.
For me, to be able to focus on children's rights in both my practical work and my studies has been hugely fulfilling, and it's something I'm committed to for a long time to come."