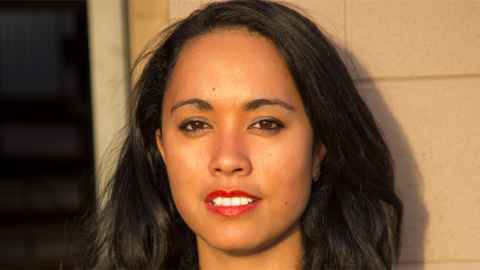 Courtney Sina Meredith was introduced to poetry at an early age by her mother who was herself a writer and also a student starting her B.A. when Courtney was seven.
"Mum's poems were the first I ever heard, that was my introduction to the art form."
Her childhood began in the family statehouse on Taniwha Street in Glen Innes before mother and daughter moved into town. Flatting in the Bohemia of 1990s Ponsonby, Courtney grew up surrounded by artists and creatives. It was the perfect environment for a budding poet and those early years went on to shape her future as a writer, musician and arts manager.
Gravitating naturally to the stage, at age 8 Courtney gave her first speech at assembly while at Ponsonby Primary on having flat mates. "I loved being on stage. Mum was coaching me in the back row." In the years following she would discover her passion for debating and playing the guitar.
Attending Auckland's Western Springs College, it was a conversation with then principal Ken Havill that was to have a big impact on the young teen.
"He really encouraged me to explore my creative side and to write and perform. I struggled with the transition from intermediate to being at the bottom of the heap in third form, but Ken set up key connections for me across the school to keep me engaged. Everyone expected I would go into music afterwards but writing has always been my true passion."
Enrolling in the ten-week 'New Start' programme doing a range of different subjects and essays quickly established she was on the right track.
Starting a law and arts conjoint, but eventually deciding to major in English and Political Studies, Courtney says she was hungry to be writing and thinking, and to be surrounded by people who shared her passion only pushed her to achieve even more.
But there was one setback that Courtney says really required her to dig deep within herself.
"In the later stages of my degree I was diagnosed with a severe case of endometriosis. I was living with chronic pain and without a comprehensive pain management plan. There were plenty of dark days where I struggled to get out of bed and get my assignments completed. I had no way of connecting all these factors at the time so making it through was a huge achievement."
It's all part of a philosophy about not settling for second best she was taught from a young age.
"I've learned that there's no such thing as putting in 50% or giving different amounts of care and energy to various projects and pursuits. You give 100% because it's your life, every connection, every moment deserves your presence and your attention, regardless of whether it pans into something glorious or not."
Launching her first book of poetry Bright Girls in Bright Red Lipstick (Beatnik) at the 2012 Frankfurt book fair, Courtney has since published a short story collection, Tail of the Taniwha to critical acclaim, while her earlier play Rushing Dolls also won a number of awards.
Being selected for a number of international writers' residencies including the prestigious Fall Residency at the University of Iowa where she is an Honorary Fellow in Writing, the Island Residency in Sitka, Alaska and the Bleibtreu Berlin Writers' Residency in Charlottenburg, Berlin have all contributed to advancing her work.
"Of all the residencies I've done I think the one in Alaska was the most memorable. I was there for the Trump election victory and witnessed some crazy scenes."
Courtney has also held various leadership roles across local government and in the tertiary sector and consulted on global and national arts policy. Her many varied interests are tied together by her passion for life and to do things well and with integrity.
As for future plans, Courtney is the newly appointed Director of Tautai, New Zealand's contemporary Pacific arts trust. Tautai provides leadership and support nationally for Pacific artists, writers, curators and students at all levels.
"The big goal has always been to have a voice and to honour my ancestors that have paved the way for me as well as creating space for those yet to come. My new role at the helm of Tautai is a dream come true.
I have always wanted so much to create positive change, to be putting out messages of empowered brown women and to be published. That all these goals have come to fruition and continue to stem off into other areas of interesting and important work is truly humbling."