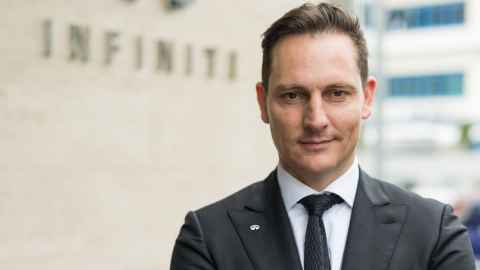 Deciding on your future career at just three years old doesn't happen very often, but when Dane Fisher fell in love with high performance luxury cars at a very young age he knew it was to be his calling.
Thirty five years on, he has absolutely no regrets.
Based in Hong Kong, where he's General Manager of Business Transformation and Brand for INFINITI, the luxury division of Nissan, it's the latest in a string of luxury automotive industry brands that Dane has worked with.
He jokes that he'd "like to come up with something cerebral" for the reason his career has followed the trajectory it has but for someone who loves high performance cars he's the first to admit his career has certainly been a dream ride.
"The number one reason I love what I do is simply my love of high performance luxury cars. I have always been fascinated with performance, the technology and thrill you get from extracting the maximum out of them (on the track obviously!) Luckily the brands I have worked for have all had cars that were very fast, very beautiful, of high quality and were housed in beautiful surroundings with great fan bases."
It was through his father that Dane met the man who would provide an entrée into the world of luxury cars. Dane and his brother were with their father looking at cars at one of Colin Giltrap's dealerships on Auckland's Great North Road. His father had bought a number of cars from the Giltraps and while the two men were talking Colin overheard the brothers discussing cars and their specifications. Recognising the 13-year-old's knowledge and passion, he told the teenager to give him a call when he got to university.
Four years later, having enrolled in a Bachelor of Commerce in Marketing and Bachelor of Property, Dane contacted Colin to follow up on his generous offer. For the next 15 years, first as a student and then after graduating in 2001, he worked for the Giltrap Group.
Starting out as a brand manager for Porsche at 21 and progressing rapidly through roles with European Motor Distributors, he was eventually appointed General Manager of Audi in 2009. After five years of leading the Audi brand Dane was keen to see if he could cut it on the world stage. First stop was Sant'agata Bolognese, Italy the home of Automobili Lamborghini, where he developed and implemented their Motorsport strategy before relocating to Hong Kong.
As a member of the INFINITI global executive team, Dane was instrumental in developing and implementing the INFINITI Lab, the company's multi-tiered and global accelerator program to support entrepreneurs to reach their potential.
"Continuing to support innovation and entrepreneurship will be critical in evaluating future trends and developing new programs and services to support ever-changing customer needs"
Reflecting on his time at university Dane says it taught him discipline, particularly learning how to deliver under time pressure and on time.
"I've also learnt that you will only truly be successful if you follow your passion, trust your gut and realise that it's okay to take the road less travelled."
Good advice from someone who would prefer to take the road less travelled in a high performance luxury car.