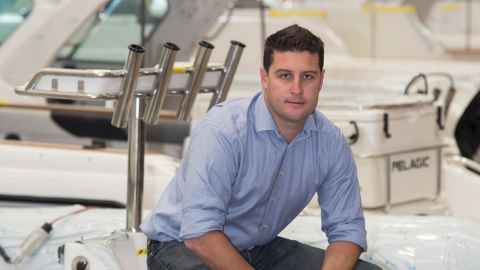 When Dave Larsen started work at leading Auckland boat manufacturer RayGlass in 1998 it's doubtful his colleagues realised the young apprentice joining their ranks would eventually go on to be appointed CEO 15 years later when he was just 35.
2018 year will mark his 20th anniversary with a company that has become synonymous with the marine industry in this country and to date RayGlass remains the only employment entry on his CV since leaving school to begin his apprenticeship; a definite rarity these days.
Brought up by the beach and with a passion for boats, Dave's career track might have turned out differently had it not been for his persistence scoring an apprenticeship in the first place.
"I always wanted to work at RayGlass and so I met with founder Tony Hembrow but he wasn't able to offer me a job. I kept sending him emails but didn't receive a reply. In the end I just turned up one day with my toolbox and said I'd work for free until they felt I was worthy of being paid. It only took a week for that to happen."
Admitting he had a very short attention span at school, staying on past 16 mainly for rugby, his time at university completing a Post Graduate Diploma in Business Administration came with its own set of challenges.
"While I understood the mechanical and manufacturing aspects of boats very well, the business element was the missing piece for me. I really had to up my game at university. For the first time I was mixing with people who went to the library on a Saturday night to work on assignments rather than going out. That was a first for me."
Being named the NZ Institute of Management Young Executive of the Year in 2009 brought with it recognition for his achievements managing a business that had dealt with twin setbacks: a major factory fire in 2008 and a severe downturn in business in 2009 following the fallout from the GFC.
"Those two years caused me plenty of lost sleep but we managed to pull through without having to lay off any staff and I'm immensely proud of our team for the way they handled what was a very difficult period for the business."
While a trade isn't necessarily the traditional path to management, Dave says his career path and his achievements are proof that it's still possible to start on the bottom rung and work your way to the top of the ladder.
"I'm a great believer in upskilling and gaining the education and knowledge to succeed. At each stage of my career I've had to take on new learnings. Transitioning from Sales Director to Chief Executive required a fundamentally different skill set and the University of Auckland was able to provide that. In fact, I still refer to my notes from the course to this day."