Musician - Mean As Music.
"I started to care about being cool and obviously that didn't involve doing well in the classroom. I was always in trouble and my grades started to fall away but school wasn't really a priority for me at the time. I was much more into gaming."
But it wasn't just playing the games; they also sparked an interest in understanding how the games actually worked.
"We got our first PC at home and my brother in law showed me the game Doom. I needed to know everything about the game and I wanted to figure out how it worked; particularly how to make it run faster."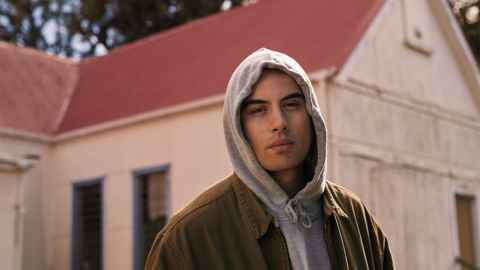 An obsession quickly developed. Understanding the inner workings of the computer, learning how to change and reconfigure files and being able to network computers to play together began to open a world that would quickly lead to an interest in computer science.
But despite his new found interest in computers things weren't getting any better when it came to school.
Moving to Papatoetoe High School and placed in the top academic class initially, where an obvious talent for maths and science soon emerged, ongoing behaviour issues saw him moved to the bottom class in his form.
"The Dean saw me as a trouble maker and didn't like me very much. I was always  late to class and mucking around so it was decided I should be punished by being put into a lower class academically where it was free reign and most of the students had no interest in learning."
One maths teacher however did see his potential and with some encouragement things began to turn around.
"I never deviated from my intention of going to university but had I not had siblings who had gone to university it might have been different. When I told the careers adviser I was going to university I know she didn't take me seriously."
But David was serious. Enrolling in a BSc in Computer Science, he admits his first year at university remains one of the best years of his life.
"I loved coming into the city and having the freedom that goes with university life. I didn't really care what I studied. The computer science papers interested me more than information systems and I even did Stage 2 finance, scoring an A in my accounting paper; which was better than the 10% I got in accounting at school!"
Musically David first started turning heads in 2003 when he won the Auckland MC Battle for Supremacy as an unknown.
He credits his older brother for instilling a love for hip hop music at an early age by always having it playing around the house when he was growing up.
But it was a classmate who introduced David to the local hip hop scene; a scene he was totally oblivious to previously.
"Had I not done the degree and met my good friend Raymond Thompson, my hip hop career may never have emerged. I'm also grateful to my friend P-Money for showing me that making a living as a hip hop artist in NZ was even possible, let alone a viable career path for me."
David says university also provided another very important benefit.
"It made me realise, possibly for the first time in my life, that I was capable of sticking at something for as long as it takes to get the job done. The time spent getting my degree is something I lean on when I need to remind myself that I have a capacity to learn and the ability to persevere with things that I find difficult."
To date David has won four NZ Music Awards and Four Pacific Music Awards over the course of his career as well as being shortlisted for the Taite Music Prize three times.