Dmitry Yu Selitskiy is the Co-Founder & CEO of Thought-Wired, a company producing a non-invasive universal brain-computer interface that provides an assistive tool for people who cannot move and talk. He is the recipient of several research and entrepreneurship awards including the Datacom Imagine Cup scholarship and the Microsoft Imagine Cup.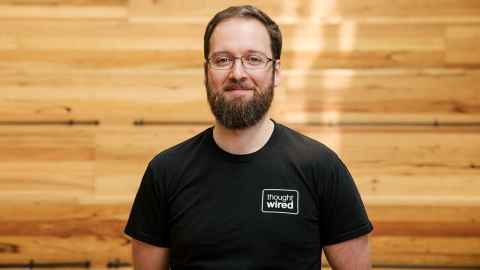 The collapse of the Soviet Union in 1991 was a significant event in world history.
Not that Dmitry Yu Selitskiy can remember much about it. He was only 4 years old. But he remembers the period of subsequent rapid change and the effect it had on his family who lived in Yekaterinburg, Russia's fourth largest city (the place, incidentally, where the family of deposed Tsar Nicholas II were imprisoned before being executed by the Bolsheviks in 1918).
"There was a lot of uncertainty at the time," says Dmitry. "Everything was changing around us, but I worked hard at school, taking additional classes and learned English which provided me with options when I completed my schooling."
As a result of the uncertainty and growing political instability, Dmitry's parents decided that he should leave Russia and complete his university studies abroad.
The US, the UK, Canada, Australia and New Zealand were all considered, but in the end the family opted for New Zealand due to the favourable exchange rate at the time and its reputation as a clean, green and safe country for international students.
Arriving in New Zealand, Dmitry quickly settled into a life that was very different to the one he had left behind in Russia.
"My first impression was how friendly everyone was. Walking down the street if you made eye contact with someone they would invariably say hello. That doesn't happen very often in Russia. I also remember wearing t-shirts and shorts year-round. I didn't find it cold at all."
With a keen interest in information technology, Dmitry enrolled in a Bachelor of Business and Information Management and completed the entire three-year degree with a small cohort of around 100 students who provided a whole new social network: peers who shared his passion for IT.
Returning to complete a BCom (Hons) year in 2010, Dmitry recalls watching a TED talk about brain interface technology that soon had him obsessing about the idea.
"I was actually able to build it into my dissertation. It gave me an excuse to learn about the field as part of my research."
He launched his own start-up Thought-Wired, with its first product Nous™ Blink – a wearable device that enables someone who is paralysed or locked-in to control a computer using their intentional eye blinks. Already the technology has given many users a quality of life they never had previously.
Dmitry gives the example of the first user of Nous Blink, Danielle, who lives with very severe cerebral palsy. "Before Nous Blink, she could communicate 'yes' by looking up and 'no' by looking down. She had tried a number of different types of assistive access and communication technologies, but none worked for her needs. Now she uses Nous on a nearly daily basis to play games, communicate, complete puzzles, create artwork and take photos."
Dmitry's father helped him found Thought-Wired. "My father has always been an inspiration for me as an entrepreneur and diligent professional. Having him as a co-founder in my first entrepreneurial venture has been invaluable.
"My parents were confident enough to send me here on my own to study and as a result I have been able to make New Zealand home for my family."
Dmitry is passionate about creating technology that isn't just cool but is useful and valuable to as many people as possible. He is an advocate for universal access for all and a believer in technology enabled superpowers.
He summarises his future in a single sentence.
"I'm working towards an elusive goal of connecting human brains and machines for the benefit of people – there's still plenty of work in that."