Edward Ashby is a heritage consultant and a board member of Te Kawerau Iwi Tiaki Trust. He helps to improve indigenous and human-environmental outcomes through advocacy, analysis, and innovating cross-cultural tools and approaches.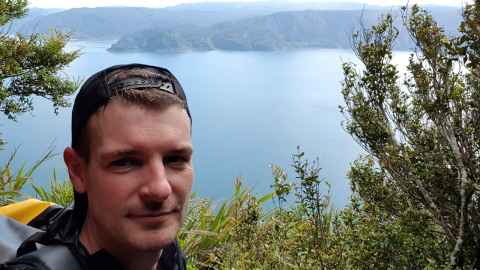 American actor and comedian Christopher Walken once said: "At its best, life is completely unpredictable."
Edward Ashby would definitely concur. He is one of the first generation of New Zealand anthropologists to obtain a forensic science qualification and to work with the coronial
services. Yet this was never on the radar for Edward, who grew up in the Northland town of Dargaville.
In fact he dropped out of school early and did no further training until in his early 20s when he travelled to Germany. This proved to be a turning point, inspiring him to enrol in a Bachelor of Arts on returning home.
"It was my first time out of New Zealand and spending time in art galleries and museums in
Berlin opened my eyes to a world I had never been exposed to previously. I was hooked.
"I decided to really mix things up at uni, taking papers in theology, anthropology, geography and art history. I'd always been curious and thought a lot about deep questions, but I never really had anyone at the time to guide my thinking until I got to university."
Since completing his MA in anthropology, Edward has been involved in a diverse portfolio of projects both here and overseas including assisting Te Kawerau ā Maki with the final stages of Te Tiriti ō Waitangi settlement with the Crown; working on sites in England including the Stonehenge World Heritage Site; and managing the rāhui that Te Kawerau ā Maki called over the Waitākere forest due to kauri dieback and declining forest health.
On his own initiative he also co-ordinated coroners, pathologists, police, Heritage New Zealand, ESR forensic scientists and university specialists to develop a series of national protocols for human skeletal remains, the first time such an initiative had been undertaken.
When it comes to thinking about supporters and influencers who have contributed to his journey, Edward admits it's a rather eclectic collection.
"I always looked up to modern-age explorers like Neil Armstrong. I like people who work to progress the great arc of humanity. I also drew a lot of influence from writers – Stan Lee's Marvel Comics characters when I was young, and later from people like Albert Camus.
"I studied under Professor Harry Allen and the late Marianne Turner for my anthropology degrees at the University of Auckland  – they sparked a keen interest in the material culture and ethnography of people. Also through my work with Professor Judith Littleton on human skeletal material, I learnt an awful lot of the history and the tikanga of the region from Te Warena Taua of Te Kawerau ā Maki."
Reflecting on his somewhat unconventional journey from high-school dropout to anthropologist and what he's learnt about education along the way, Edward willingly shares a few candid observations.
"I know at first glance my CV can look a bit strange or unconventional, but all of my choices fundamentally relate to a fascination with understanding humanity, a care for the environment, and a drive for justice.  
"It is cliché but no less true that the best thing an education can give you isn't a yard-stick of how much you know, but rather an awareness of how little you know, while equipping you with the tools to know how to ask sensible questions. This critical thinking skill is by far the best foundation because it not only helps you prepare for challenging work, but also helps you grow as a person."