Eleshea D'Souza has worked in the dairy industry for Fonterra, Pāmu and LIC, spearheading future-focused innovation, marketing, strategy and start-up investment initiatives both in New Zealand and internationally. She is also the founder of Art in Bloom Academy, an art entertainment business in Auckland breaking down barriers to creating art.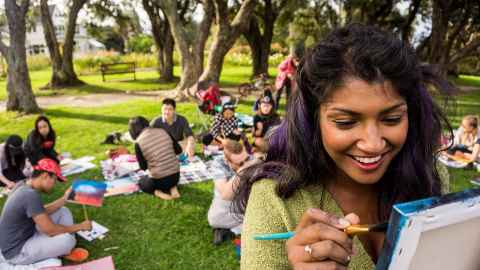 Imagine sitting in a trendy bar drinking a glass of wine and painting a work of art. The
easel, apron, canvas, paint, brushes, and most critically the wine, are all supplied along with step-by-step instructions to help get your creative juices flowing.
At the end of the event, you leave with your very own painting ready to hang up on your wall.
This is Art in Bloom Academy, a leading art entertainment business with the vision of turning every home in Auckland into an art gallery. Pioneering first-to-New Zealand events like Wine and Paint Parties in bars, Painting with Puppies, Painting in the Park, Acrylic Pouring workshops, life drawing hen's nights and artsy team-building events, Art in Bloom has taught over 10,000 budding artists since its inception in 2017.
Art in Bloom is the brain-child of Eleshea D'Souza, who is also the corporate development manager at LIC (Livestock Improvement Corporation), a New Zealand farmer-owned agritech co-operative.
Eleshea has painted since she was 12 and sold over 50 private commissions. When she returned home to New Zealand after five years living and working overseas, in cultural hubs like New York and Amsterdam, the idea for Art in Bloom quickly blossomed.
"The need was very clear," she says. "Compared to living in Europe, I thought Auckland required more art, fun and culture. I was tired of seeing blank white walls and my vision was to turn every home into an art gallery."
Eleshea studied law and accounting at the University of Auckland and says her "degree has been an incredibly strong foundation to every role I've done, especially founding my own business".
She thought she would become an accountant "but after a three-month summer internship I realised very quickly it wasn't for me".
Instead, she won a place on Fonterra's Business Graduate Programme and rotated through four commercial roles over a two-year period.
"Because of that I became very versatile and adept at quicky picking up different business functions."
She was soon transferred to Fonterra's European head office in Amsterdam in a sales development role and later promoted to marketing manager. Highlights of her time there include launching new Anchor products into the Russian market and managing Fonterra's B2B ingredients exhibit at the world's largest food ingredients event.
Arriving back in New Zealand in early 2017, she set up Art In Bloom while working part-time at Pāmu, launching dairy products into China. Once Art In Bloom was up and running sustainably, she hired a full-time business manager to take over her team of seven people and joined LIC in 2019 as their corporate development manager.
Eleshea is passionate about finding new innovative technologies to feed the world more efficiently and sustainably. At LIC she has launched the LIC AgCelerator Fund, which invests globally into innovative start-ups. 
"My career has been so much better than I could have imagined," says Eleshea. "Travelling for work across the world to amazing places like London, Paris, St Petersburg, Dubai and Shanghai has been my career highlight. And then starting my own business has been the cherry on top."
She cites her father as one of her inspirations. "He has always been an entrepreneur. Back in the '80s he started the first computer centres in schools in Mumbai."
If she has any advice for young entrepreneurs, it is "figure out how you most enjoy spending your time and do more of that. It's so important to try as many new things as you can so you know which of your skills to cultivate".
"Life is a blank canvas, paint your future."