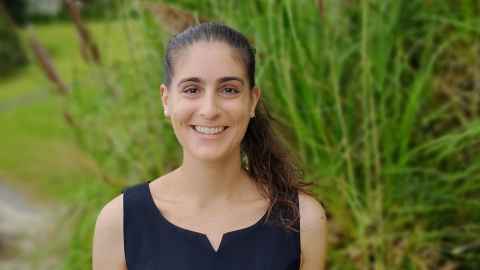 For many young people that inevitable question "what do you want to do when you leave school?" can elicit a range of responses from absolute certainty to a blank stare.
Elinor Swery admits she never had a definitive answer which she believes is a good thing; though it seems the uncertainty at the time did create an element of internal stress.
"The world is changing at such a rapid pace and an exciting career is one that continuously evolves to reflect this. Rather than focusing on a particular role, company or industry my approach has been to use technology and engineering to make a positive impact and bridge the gap between the technical and business worlds."
Excelling at maths and physics from a young age, the attraction to a career in engineering with all its associated problem-solving opportunities seemed to offer the ideal solution to her career dilemma.
Attending the University's annual open day, including a Women in Engineering presentation, cemented her decision and led to a Bachelor of Engineering with First Class honours.
But it was an honours year project that would provide every engineer's dream opportunity – the chance to work as a research scientist for BMW.
"It involved an extensive commercial research project undertaking analysis of material properties including the development of experimental techniques, processing of results and publication of the outcomes."
The experience would lead to a decision to undertake a PhD involving numerical simulations of composite material manufacturing which would go on to be published in eight scientific journals and result in invitations to present at 12 international conferences.
"I continued to work quite closely with BMW visiting various sites while I was working on my doctorate and was fortunate to spend six months at the Technical University of Munich as part of my research. It was a fantastic experience and certainly made my PhD quite special."
After completing her doctorate in 2015, Elinor says she felt the need to "step back" and evaluate her options after becoming concerned that a career in automotive engineering might eventually become all-consuming.
Wanting to achieve that sometimes elusive mix of making an impact, working with people, solving problems and being connected to communities, IT consulting seemed a logical pathway.
"Initially I felt bad about leaving mechanical engineering but what I didn't expect was how I managed to bring my experience in this area to every role I have had since graduating."
Working with computer systems giant IBM on Artificial Intelligence adoption and enablement eventually led to a role as a Senior Solutions Architect with New Zealand based AI pioneer Soul Machines providing technical leadership on Artificial Human Implementations. She also contributed to various research and development efforts for which Elinor was included in Forbes 30 Under 30.
A focus on communicating research more effectively has been a particular passion throughout her career. Elinor says it was a remark from one of her early mentors, Dr Michelle Dickinson, while she was completing her doctorate that has always stuck with her.
"She reminded us that it is our responsibility to make sure that we can present our work to people who are not experts in the field and it is up to us democratise the knowledge that we have gained. This approach has really shaped my professional career and made me focus on developing my communication skills."
Elinor is currently based in Tel Aviv, where she has immersed herself in the start-up scene. The experience has reinforced her ongoing belief that careers are always in flow and never fully planned.
"Israel is well known for its vibrant tech start-up scene. I moved here to experience it for myself and to better understand what it is that makes a great start-up business while at the same time hopefully strengthening the ties between New Zealand and Israel. As long as what I'm doing is meaningful and making a contribution then I'll be satisfied."
Just don't ask Elinor what she plans to do next.  The answer won't have changed from when she was a teenager.