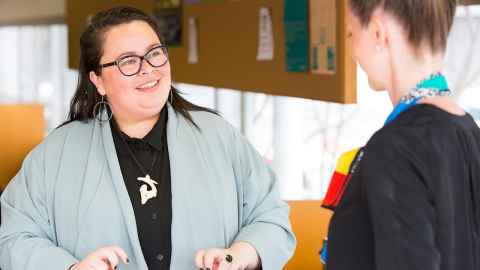 Growing up in a small, 35 square metre railway cottage with her family in Rānui, West Auckland, Elisapeta Heta knew all about economising on space from an early age.
With just the one sink in the laundry, no bedroom of her own and a small kitchen table used for both meal times and homework, the house was a tight fit for the family of five.
Helping everyone to indulge in a little dreaming, her great grandmother from time-to-time would buy tickets in a grand lottery that offered the lucky winners magnificent mansions on Australia's Gold Coast. Elisapeta would spend hours as a 7 year old copying the floor plans of the homes in the lottery brochure and redesigning the layouts to her 'dream home'. It was an early sign of where her talent and future lay.
Telling her father one day that she planned to become an engineer, his response ended up providing unexpected motivation for his daughter in a way she hadn't anticipated.
"Dad simply told me that 'women can't be engineers.' I can still remember my shock that being female was even a factor, so from that day on I was out to prove him wrong. At the time, I don't think he realised how much of a favour he actually did me."
Redoubling her efforts at school where she says education was "an escape for me as a kid" and achieving good results, Elisapeta opted for architecture over engineering but quickly discovered university was nothing like what she had expected.
"As a student with Maori and Pacifica heritage I really felt like an outlier in my first year. It was very isolating and initially I found it hard to fit in. I threw myself into mentoring figuring that if I felt that way others would too."
By her fourth year those feelings had begun to dissipate and Elisapeta says she began to explore how space and place can have a positive impact on the lives of the communities in which they function.
Graduating with a Bachelor of Architectural Studies in 2008 and going on to complete a Masters of Architecture (professional) (Hons) in 2010, the timing of her graduation coincided with the aftermath of the Global Financial Crisis when no one was hiring.
"A lot of people were being made redundant and our entire year group found it very difficult to get work. I even had to go on the dole for a period. It was heart-breaking to experience WINZ and really demoralising and demeaning finding myself unemployed after everything I had worked so hard to achieve."
Securing some office work with an uncle and deciding to spend time visiting the United States, Elisapeta says she reflected on her position and decided she had to diversify her options.
Returning to New Zealand, she threw herself into a range of art projects and side gigs, including sound production, but all the time feeling like a failed architect.
Meeting with Lynda Simmons from Architecture+Women NZ was to provide the understanding of architecture and ultimately the career support that Elisapeta had been seeking.
"Lynda was responsible for getting me into the industry and I'm very grateful for the support she gave me at a time when I really needed someone who believed in me."
Joining Jasmax in 2015 Elisapeta says she is finally doing what she set out to achieve "exploring community spaces and scale."
In addition to her architecture studies, Elisapeta also completed a Masters of Literature (Museums and Cultural Heritage) in 2015 as a result of securing a Toi Te Mana Scholarship.