Black Fern, Teacher - Epsom Girls Grammar.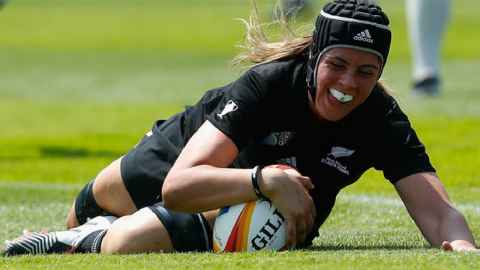 Walking to school in bare feet is all part of living in one of New Zealand's most idyllic locations – Great Barrier Island in Auckland's Hauraki Gulf.
Eloise Blackwell describes the experience of growing up on the island as "...feeling like you're outside the whole time" which pretty much sums up what is great about the sense of freedom that comes with living in a small, isolated community where smartphones and computers barely feature in the lives of the 100 or so children who live there.
But from a young age sport quickly became the dominant factor in her life.
"I always loved sport. I took part in every sport on offer. It didn't matter what it was, I played it but it was rugby that quickly became my favourite."
Securing a place at Mercury Bay Area School in Whitianga, due to there being no secondary school on Great  Barrier, Eloise says she quickly earned a place in the girls First XV side in her first year at her new school while also playing netball and joining a local surf lifesaving club.
It was to be a taste of things to come that would see her rise rapidly through the ranks.
Securing a scholarship to attend an international boarding school in Canada in her final two years of high school provided a unique opportunity to not only develop her playing skills but explore a country where rugby was completely overshadowed by the country's national obsession with ice hockey.
"I lived with a family on Vancouver Island and attended a school with only around 200 students many  of whom were also international students. It was a very traditional school, like a modern day version of Hogwarts in Harry Potter, with equal emphasis on sport and academics. Our rugby team did manage to make the state finals for both years I was there and it was around then I began to realise I might have a future in the sport."
Returning to New Zealand in 2008 and completing the last six months of the year at her old school (due to the different school years in Canada) decision time loomed for what to do the following year.
"To be honest, I wasn't really sure about my options at the time. I knew I wanted to go to university but it wasn't until just before Christmas I found out about the Bachelor of Physical Education degree at the Epsom campus and decided to apply."
Being one of only 100 students admitted to the programme continued what had become a tradition of being part of smaller cohorts, Eloise quickly found herself at home surrounded by other students with a passion for sport; though a reminder from one lecturer that their teaching was to be "...for the school students not themselves" provided some timely clarity about their true purpose for being selected.
Joining the Ponsonby club to play rugby while also playing netball, Eloise says that it was in her second year of university she decided to focus solely on rugby and developing her skills. It provided a timely decision as one year later in 2011 she received the call up to play for the Black Ferns who were set to tour England.
"I was one of eight new recruits and to be honest, I never expected to be selected as there were many great players at the time who were playing in my position. There is no greater sporting honour than representing your country on a world stage and it was quite overwhelming taking all that in when I received that first call up."
With support from the university to catch up on missed work the tour was to be the start of a long association with the Black Ferns which is now into its eighth year.
In 2018 Eloise was one of 28 players who became the first ever group of NZ women to become  contracted professional players.
"It's a real milestone in the history of women's rugby but also a huge step in the right direction and I am excited about what the future holds for sport. My two greatest personal achievements to date are making my debut at Twickenham Stadium in 2011 for the Blackferns and winning the Rugby World Cup in 2017."
Now teaching PE and Health at Epsom Girls  Grammar, Eloise says she's in a position to influence the next generation of sportswomen wanting to follow in her footsteps wearing the silver fern.
"I love my job. The school and staff are extremely supportive of me when I need to take time off to play test matches or I need to be at a training camp. I constantly have students asking about my sporting career and what they can do in order to become a better athlete. I want to empower my students to achieve their goals and dreams and realise that with a bit a hard work and determination anything is possible."