Emil McAvoy is an artist, art writer, educator and consultant. He was recently a lecturer in Photo Media at Whitecliffe College of Arts and Design (2017-20). His exhibitions include projects with City Gallery Wellington, The Dowse Museum, and the Auckland Art Fair. His art writing has been widely published.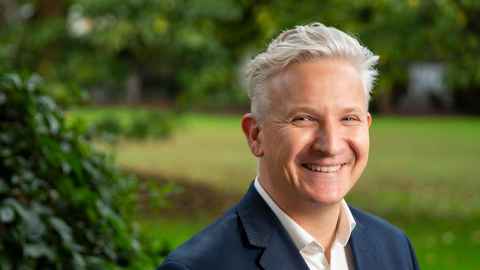 Emil McAvoy's artwork – across photography, video and painting – often shines a light on social justice, whether protesting illegal government communications' surveillance or the confiscation of human rights campaigner John Minto's loudhailer.
"My work attempts to directly address current cultural and political issues circulating in the public sphere," he says.
Emil was the top Art History student in the country when he enrolled at the University of Auckland in 1998 to do a BA/BCom in Art History and Marketing. He intended pursuing a career as a curator but found his own art work taking a more driving role, and went on to complete a Bachelor of Visual Arts at AUT, returning to Elam to complete a Master of Fine Arts in 2013.
"Perhaps one of my biggest learnings," he says reflecting on his career, "is when things haven't worked out the way I'd expected.
"I was a very high performing high school student, but didn't count on the extent of poverty I experienced after university – and for a long time – working multiple modestly paid part-time jobs through my twenties and thirties while trying to juggle a career as an artist.
"This struggle doesn't go away," he adds. "You just get better at managing it – if you can hold on."
In 2015 Emil was invited to review a high profile exhibition, Necessary Distraction, at the Auckland Art Gallery, which catalysed his fast-growing art writing career.
He has written on the work of notable New Zealand artists including Anne Noble, Mark Adams, Ann Shelton and Gavin Hipkins. His art writing has been published in Art New Zealand, Contemporary Hum, Art News, Pantograph Punch and EyeContact among others.
"One of the most interesting, rewarding and unexpected directions my career has taken has been into the field of art writing," he says.
It has also fuelled his own art and natural bent for justice.
As part of the Auckland Art Fair's Projects Programme in 2018, Emil's artwork $1/Word: A Living Wage for New Zealand Art Writers called for the fair remuneration of art writers in the context of an art fair at the nexus of art and money.
Emil is constantly developing new work across multiple mediums.
In 2019 he went to Berlin on a Goethe Institut Scholarship for Cultural Ambassadors, to further his German language learning and do research towards a series of creative projects.
Earlier this year he left his lecturing role at Whitecliffe to focus on new research projects, freelance writing, and consultancy and mentoring for artists.
An exhibition Emil curated opened on the University campus in Old Government House in July. The National Basement features a suite of 17 digitally restored and re-printed archival photographs curated from the New Zealand Government's National Publicity Studios (NPS). The photographs depict displays – now lost or destroyed – used to promote New Zealand tourism, trade and positive public relations from the 1940s through 1960s.
For Emil, the exhibition is something of a homecoming. He began research for it in 2009 after being awarded the Archives New Zealand 50th Anniversary Scholarship. This morphed into his Elam master's project and involved sifting through 250,000 images from the below-ground storage facilities of Archives New Zealand in Wellington, which he came to light-heartedly refer to as "The National Basement".
In the future Emil plans to write and direct a film and book project.
"I am a believer in art's social, cultural, political and spiritual potential," he says. "And I've largely devoted my life to it."