Not yet 40, Dr Emma Blomkamp is already an honorary fellow at the University of Melbourne, has been published in ten international journals, co-edited a book and squeezed in a working OE to Cambodia and France. Based in Australia she works independently as a co-design coach, bringing together professionals and the public to find creative solutions to shared problems.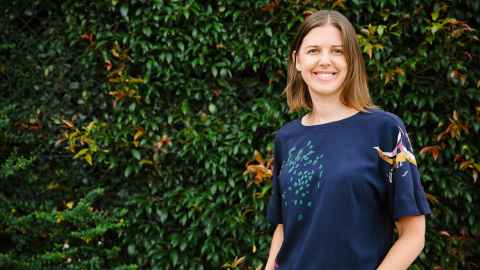 Dr Emma Blomkamp is a co-design coach, something even she admits is tricky to explain.
Co-design is an emerging and fast-growing field. Emma helps governments and not-for-profit organisations engage the people who will be impacted by a decision to come up with solutions.
"The problems I deal with are generally related to society not working as it should," Emma explains. "I help create the conditions so people who will be affected by change are put on an equal footing with those who are professionals in their field." 
It's a deeply meaningful profession for Emma as she facilitates a process for people to directly improve their lives. The role requires high levels of compassion and diplomacy, and it helps having a PhD in local government and cultural wellbeing.
"Given the right conditions, everyone has something meaningful to contribute to the world, but there are lots of systems and structures that get in the way of people thriving," Emma says.
"I especially like working on social problems, so for instance in Auckland I worked on a project around young people driving without a licence; here in Victoria I did a project on outcomes for people with cognitive disability navigating the justice system."
Born in Kaitaia and raised in Auckland, Emma lives on Wurundjeri land (Brunswick). She ended up in Melbourne after completing her PhD under the Universitas 21 Double Badge programme - one of the first to benefit from the scheme, under which she completed her doctorate at both the University of Auckland and the University of Melbourne.
"It was tricky to study between two universities but worth it in the end. I had a lot of support from my supervisor Jennifer Curtin, who was a great mentor for me."
Her PhD won a Best Doctoral Thesis award from the Faculty of Arts and, as well as underpinning her day-to-day work, led to her co-editing a book - Making Culture Count: The Politics of Cultural Measurement - and a position as a research fellow at the University of Melbourne.
Emma's deep sense of empathy has been influenced by several life-changing experiences. When she was 15 she was involved in a horrific head-on car crash in Otago, which resulted in seven broken bones, including her hip, and an eight-week stay in hospital.
"I am lucky to be alive. I nearly lost my legs, but I didn't because of the rescue helicopter reaching us in time and the incredible hospital care I received. It caused a profound shift in my thinking and from that point on I've been very aware of my privilege," Emma says.
"Likewise living in the countryside in Cambodia, I was 21, naïve, never worked away from home, never stayed in a developing country before. It was amazing and I experienced such kindness and generosity from some very poor people."
Those experiences helped Emma focus on doing work that matters, particularly in the long term which is very much at the heart of co-design.
"I'm always ready to pivot at any moment. I'm doing a job that I didn't know existed when I was 14 or when I was 24."
Emma said her success is also due to the influencers and mentors she has encountered along the way.
"My peers Marnie Badham, Kim Dunphy and Peter Skilling were invaluable mentors during my PhD and I have Simon Harger-Forde, Terry Fleming and Penny Hagen to thank for getting me into co-design, and Jenny Lewis for opportunities to build my academic expertise in policy design and public innovation.
"Also, my grandmother Heather demonstrated grace and care for the earth, and my parents valued reading and learning and encouraged me to think for myself."